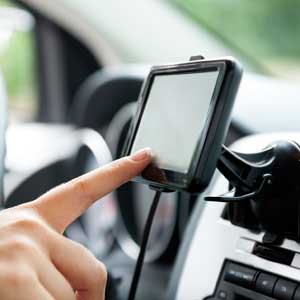 As a physician, there's a good chance that your next job is located somewhere other than where you're living right now. Job interviews are always stressful — and even more so when you add travel into the mix. To make sure you make the best impression possible, you'll want to do some prep work before you arrive for an interview in a new city.
Written directions to the office.
While you will most likely type the address into your smartphone or car's GPS system before driving to your interview, it's a good idea to have a paper backup. Having written directions and even a map can give you peace of mind and be a lifesaver if your GPS malfunctions or you run into unexpected road work or a traffic accident. Be sure to read through the directions before leaving so you're familiar with the route, and give yourself plenty of time to travel.
Small snack.
Pre-interview jitters can make it hard to eat a good breakfast or lunch, especially if you're also in a hurry to get on the road. For a boost of energy, pack a simple snack like a granola bar or string cheese that you can eat in the car. To keep bad breath at bay, avoid garlic or onion-flavored snacks. Watch out for snacks that could leave crumbs or spots on your clothes.
Gum or breath mints.
If you decide to eat a snack on your way, be sure to freshen your breath with a mint or sugar-free gum. Don't forget to spit out your gum before heading into the interview.
Water bottle.
Stay hydrated and cure a scratchy throat or hoarse voice by grabbing a cold bottle of water before you leave. Drink it slowly to avoid spilling on your dress clothes and make sure to leave the bottle in the car or throw it away before you head into the interview.
Makeup and comb for touch-ups.
Leave yourself a few extra minutes to touch up your makeup or comb your hair before heading into the interview. If the facility is large and you're short on time, use your rearview mirror or a compact instead of looking for the nearest restroom.
Lint roller.
If you have pets or are wearing a suit made of fabric that attracts dust or hair, you'll want to bring a lint roller to freshen up your clothes when you arrive at the interview. Consider packing a small bottle of unscented hairspray as well to eliminate static cling on your pants or skirt.
Wristwatch.
Keep an eye on the time, both as you're traveling and answering questions in the interview. A word of warning for those who use a phone as a watch: Constantly glancing at your phone can seem unprofessional. Keep it in your pocket or purse instead.
Copies of your resume.
Impress the interviewers by coming prepared with a copy of your resume for each person on the panel, and provide several extra just in case another person unexpectedly joins the interview. You'll avoid the need for someone to make photocopies at the last minute, and you can ensure that your resumes are printed on high-quality paper and look professional.
Porfolio. 
Include letters of recommendation from former employers, copies of your degrees and certificates, thank-you letters from patients and other achievements in a three-ring binder or expandable file folder that the interviewers can flip through during your meeting.
Professional notebook.
A leather-bound journal or folder with a legal pad allows you to take notes when you have time to ask questions during the interview. It's also a nice way to store your extra resumes so they don't get crumpled. Did we miss anything? Share the items you bring to interviews in the comments!