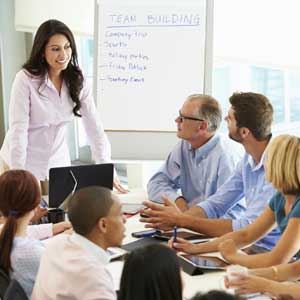 As a healthcare professional, your most valuable asset is time. Spending hours in lengthy or unnecessary meetings can be frustrating — especially when you have so many other things to get done in a day. Here are a few tips for running a successful and productive meeting:
Provide details in the meeting invitation. No one likes to receive a calendar invite with just a title and a list of attendees. Keep people engaged from the beginning by including a brief description of why you're meeting and, if necessary, what you'd like attendees to be thinking about before you meet.
Check the guest list twice. While you might be tempted to invite an entire team to your brainstorming meeting, you'll probably be more effective with just two or three people. Voices tend to get lost during big meetings, and your coworkers may get bored or wonder why you've invited them at all if they can't — or don't want to — contribute.
Start on time. Set a precedent for effective meetings. Begin on time, and don't wait for latecomers to file in five or 10 minutes late.
Say why you're meeting. You've already provided a brief description of the reasons for meeting in the calendar invite, but starting with reasons for scheduling the discussion reminds the attendees why they're there and helps you set the tone for the meeting.
Have a plan. Not all meetings need a formal agenda, but an outline with several bullet points for what you'd like to cover can help you stay on track. If you find yourself or others talking about unrelated business, a polite reminder to stick to the schedule can keep things on course.
Limit distractions. If you know you'll be tempted to check email or work on another project during a meeting, stay focused by leaving your phone, laptop or tablet at your desk. Writing a to-do list on a pad of paper during the discussion may also help you remember what you talked about.
Stand up. Keep a meeting short and sweet by scheduling it in an area with no chairs. Standing will become uncomfortable after a while, and it will help you stay on task and discuss only priorities before heading back to your desk.
Conclude with an action plan. As the meeting draws to a close, assign everyone to-do items with a deadline. Give yourself a few minutes to answer any questions and make sure tasks are clear.
End on time — or early, if possible. Meetings that extend beyond their allotted time frustrate attendees and make them late for other meetings or plans. Keep people happy and end five or 10 minutes ahead of schedule. Even a few minutes of extra time adds up throughout the day.
Follow up with an email. Within a few hours of your meeting, send an email with a few bullet points on what you discussed and what each person's assignment so they have a chance to note it on their calendars — or finish it right away, if necessary.
Get more ideas in this
Fast Company article
— and share your tips for effective meetings with us!