The information you provide in your job description is the first step in setting a physician's expectations and is a critical part of making a locum tenens assignment a success. In quality assurance surveys sent to locum tenens physicians at the end of each assignment, we ask how the responsibilities and requirements of the assignment compared to what was initially presented to them. Results of the 2014 surveys show the majority of our physicians were satisfied with the accuracy of the job description — but there is room for improvement. In the graph to the right, we've compiled the top three issues listed by those who said the job description did not match the reality of the assignment. Survey comments are also valuable in assessing what providers are looking for in a job description. Concerns expressed include: [caption id="attachment_10870" align="alignright" width="300"]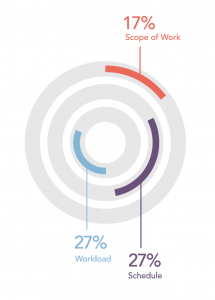 Top-three inaccuracies in job description vs. actual locum tenens assignment.[/caption]
Workload
More patients than expected
Fewer patients than presented
Ratio of clinic to hospital work misrepresented
Schedule
Long days with no time for charting
Shorter weekly schedule than presented
Call schedule not as indicated
Scope of work
Condition of patients misrepresented
Ratio of patient categories misrepresented
Skill scope higher than expected
By making sure your job descriptions more clearly define expectations like workload, schedule, and scope of work, you will find a better match for your job and create a better experience for the physician.
How to write an effective locums job description
A good job description is critical to finding the right physician quickly. It reduces questions and allows for faster presentations of physicians. With demand outweighing supply, getting the right physician before someone else does can depend on whether comprehensive information is provided up front. Below are job details that can help you find the right physician for the job.
Job description
Schedule (Monday through Friday, hours, etc.)
Call schedule (nights and weekends)
Patients per day
Procedures (required vs. "nice-to-have")
Staff information (number of additional MDs and support)
Orientation and training schedule
Supervisory responsibilities, if any
Ratio of clinic to hospital work
Specific subspecialty information (needs/requirements/pluses)
Reason for coverage
EMR system
Decision-making process
Work site description
Location
Department summary (annual cases)
Description of facility, community, recreation, etc.
Upcoming events in the area
Defining your ideal candidate
If you want to find the right candidate, it's important to know what you're looking for. Define the following criteria before screening physicians or extending an offer.
Acceptable corrective action history
Acceptable criminal background
Acceptable malpractice history (payouts, dismissals)
Years of specialty experience
Board status (certified, eligible within X years of completing training)
AMG/FMG
Availability (full-time, part-time, job share)
EMR experience/EMR types
Proximity to work site location