The COVID-19 pandemic affected healthcare providers across the country in many different ways — some worked more hours than ever, while others were laid off during the crisis. Many others says they're considering changing employers (24%). As a result, more providers than ever before are looking for a new position. Knowing how to navigate the new healthcare job market — with its changes to the hiring process, interviewing, and onboarding — are essential to landing the job you want in the post-COVID landscape.
A slower hiring process
Many healthcare organizations are using this time to reevaluate their staffing needs, and hiring may be moving more slowly than it has in the past for many openings.
"Everybody feels that healthcare has been dramatically changed from this point forward, so they may not be recruiting as robustly. But recruitment is still going on," says Lynne Peterson, director of physician, advanced practice, and executive recruitment at Fairview Health Services.
"I think a lot of healthcare organizations are trying to take a little bit of a pause to figure out where they need to be and then adjust their recruitment plans accordingly," she says.
Some organizations are taking time to focus on harder-to-fill positions. Byron Wade, director of physician recruitment and placement at UPMC, says, "We're using this opportunity to say, 'what are those hard-to-fill positions that we still need, that we haven't been able to allocate as much time to?' because they're the unicorns out there."
Administrators are also trying to ensure that newly hired providers will have enough work to justify bringing them on. Dr. David Arredondo, president of Presbyterian Medical Group, says he's reviewing every pending recruit to ensure they're going to have enough to do when they arrive.
Virtual interviewing will be part of the "new normal"
Interviewing has also changed, as many interviews have transitioned to online platforms. If you haven't used online video tools professionally, it's a good idea to read up on how to prepare for your first virtual interview.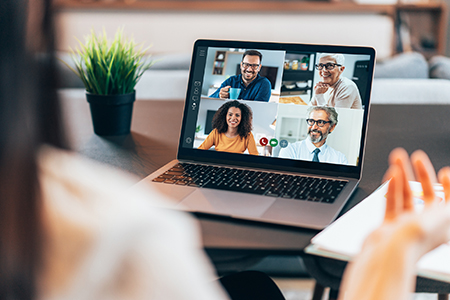 "I don't think that it's going away," says Peterson, referring to virtual interviews. "I think it's now going to be part of our norm in terms of screening candidates."
While it can be difficult to get a feel for a place without an in-person visit, recruiters are finding creative ways to share their local facilities and communities, from virtual tours to partnering with the local Chamber of Commerce to create videos of the area.
Some facilities, like UPMC, are continuing to do in-person interviews, though Wade concedes they look different than they have in the past. "Wearing masks, keeping the group under four, no longer having the big lunch with the whole hospitalist team. The interaction is different."
Onboarding is going virtual too
Interviewing isn't the only part of the hiring process going digital — onboarding is heading in that direction as well.
"We have moved to a virtual orientation," says Dr. Arredondo. "We've shortened the length of it. We're still wrestling with how to recapture some of the good things that happened when we had everybody there in person and transfer that into a virtual world."
Peterson shares that they've made their orientation materials more useful for providers who work at multiple locations by putting them into the EMR dashboard.
"We developed an onboarding packet that was designed by the medical staff on what they needed to know, where to get their information, where to get their protective wear, because at each facility it's in different locations. So, we've designed different tools for each location that they may go to. The onboarding is a lot quicker," she says.
A new way forward
While the healthcare job market is suddenly very different from how it was in the past, healthcare administrators are still looking to hire the best providers. Understanding and adapting to this new way of hiring will give you the best shot at landing your ideal job.
CompHealth can help you in your healthcare job search. Give us a call at 800.453.3030 or view today's healthcare job opportunities.