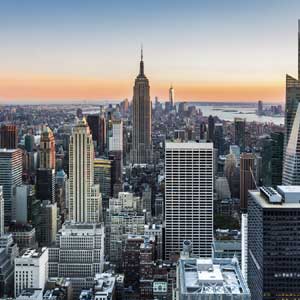 Whether you've lived on the East Coast your whole life or have always dreamed of accepting a job there, working as an OB/GYN in New York is unlike anything else. With Broadway and the Statue of Liberty in the city, the Adirondack and Catskill Mountains to the north and Niagara Falls to the west, New York has plenty of landmarks and adventures to await you. Here are a few reasons OB/GYNs like working in New York:
Historical sites just minutes away. New York has more national historic landmarks than any other state —  256 to be exact — so you're bound to be close to one no matter where you're working.Check out Revolutionary War sites like Fort Ticonderoga, eighteenth-century buildings like the Montauk Point Lighthouse, and even the Petrified Sea Gardens, an area famous for its fossils of marine algae.
Varied outdoor landscapes. While New York City is known for its interconnected islands and its location at the mouth of the Hudson River, the rest of the state is varied in its geography, making day trips to different regions a must.Check out the Adirondack Mountains, which house Lake Placid (home of the 1932 and 1980 Olympic Winter Games), Lake Champlain and numerous opportunities for hiking, sailing, skiing, golfing and fishing.The St. Lawrence region borders the St. Lawrence River, which divides the U.S. and Canada, and features Singer Castle, the Eisenhower Lock and Lampson Falls. Visit the Finger Lakes region for slender lakes, waterfalls and gorges, and check out the Seneca Falls wineries while you're there. See more of New York's regions and plan your trip by viewing the Visit New York State website.
Access to New York City's attractions. Even if you're working in Buffalo or Syracuse, you're just a few hours from the Big Apple and its many museums, theaters, restaurants, parks and more. If you're working in the city itself, be sure to make time for a tour of the Statue of Liberty, the 9/11 Memorial and the Empire State Building before you leave, and ask the locals for tips on attractions you can't miss as well.
Ready to experience everything this state has to offer?
View our open OB/GYN jobs in New York
.