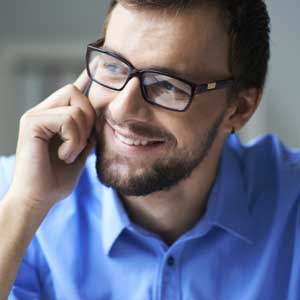 Before bringing on a new locum tenens physician, many employers request a phone conversation with the doctor. Often physicians approach these as casual introductions. There is a temptation to treat an initial phone introduction lightly. However, I recommend you take a professional approach and follow five steps to make sure your call is successful.
Prepare in advance. Before the call, make sure you recognize this for what it is: a phone interview. Take notes during conversations with your physician representative regarding the employer and their needs. Look at the facility's website and review their location, staff and facility. Take special note of physicians you might know or be acquainted with.
Outline the points you want to make and the questions you want to ask. The phone interview is not only meant to get more information about the job; it's also an opportunity for the employer to get to know you. In advance of the call, take a blank sheet of paper and draw a line down the middle. On the left side, write down a short list of things you need to know prior to accepting the job. On the right side, record three to five reasons why they should consider you as their top candidate.
Keep it simple. One of the reasons employers shy away from candidates is that they have too many issues. They have too many questions, they talk too long, and they seem too complicated. Clients are looking for simple, quick, and easy solutions. Make your questions and answers clear and concise. Avoid launching into tangential stories.
Be positive and show genuine interest. No one enjoys hearing a sad story, especially when making an introduction. It's a huge deal breaker. When you get on the phone, smile. Even though they can't see you, they can tell you are smiling. Make sure that your questions and answers are sprinkled with affirmations. Ask yourself, "By the end of this call, will the client select me for the job?" Express interest in the job. Let them know you will be responsive and work with them to make the deal happen.
Express thanks. As you conclude the call, make sure to express sincere gratitude for the opportunity to be interviewed and considered for the job. After you complete the interview, call your physician representative and express gratitude for the opportunity they arranged for you. This will also give you a much needed opportunity to review the call, share your impressions about the job and discuss next steps. Thanking all parties develops trust and highlights your professionalism.
Remember, those who treat these calls as a casual introduction are most often passed over. Implementing these points in your phone interviews will help set you apart from the competition and land you some great opportunities.