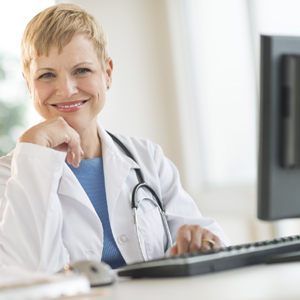 There are many possibilities for physicians looking for a new job, but finding the perfect fit isn't always easy. Here's a list of five things physicians can do to make sure they're searching for the right opportunity.
List what's important to you. It sounds simple, but creating a list of the most important factors in your professional satisfaction is also one of the things you're least likely to do. Take a few hours at the end of the day and think through what matters most to you. Pay rate, location, type of schedule, workplace culture, and workload tend to make everyone's list. Dig deeper! Come up with your own top-20 list of things you care about and write them down.
Be honest as you rank what's most important. Now that you've created a list, the next step is to rank these key factors. Your salary is important, but there's more that goes into a position besides take-home pay. Consider your preferred lifestyle, both at home and at work. Are the types of positions really going to be what will make you happiest and create the healthiest lifestyle for you and your family? Be thoughtful and honest with yourself, and rank your key job factor list from most important to least important.
Envision your key factors in real-world scenarios. Don't just think, "Pay is important to me." Play it out in your head. What would different salary levels look like? What are the tax rate implications of different salaries? What type of expenses will you incur in different locations? How do the on-call requirements compare? Do the recreational or cultural events you enjoy exist near the work setting, or will you have to travel a long distance to enjoy a hike or a professional sporting event? If one of the key factors on your list is your schedule, determine how many evenings you'll be able to share with your family, or how many weekends and holidays you might miss. The more real you can make these scenarios in your head, the more refined your search will become.
Expand your job search beyond the facility. As most physicians search for a new position, they frequently look at the department dynamics if it's a larger medical facility, or the culture of the office if looking at a private practice. But the scope of your search should never be limited to the facility you're considering. If you're moving for a new position, take the entire community into account. If you have children, don't limit the scope of your search to the quality of neighborhood schools. You'll also want to consider the potential career opportunities for them as they get older. What types of activities exist for kids? It's not just the family activities you're planning ahead for; it's what they'll be doing when they're with their friends, too. Even if you're not moving with a family, what is there for you to do? Despite what some people say, there are only so many days you can play golf. Make sure the community fits your interests and provides new areas and experiences for you to explore.
Keep your options open. There are nearly unlimited possibilities for physicians right now if you're looking in the right places. Which setting will work best for you? Maybe it's the same type of practice you've always worked in, or perhaps it's something completely new.
As the national physician shortage continues to deepen, one option that is growing in popularity is locum tenens, which gives providers the chance to temporarily fill in at facilities in need. Leveraging such an opportunity to your advantage can be extraordinarily beneficial during a job hunt, allowing you to try out different facility types, work styles, locations and cultures without permanently tying yourself down. Creating your list of key factors in a job, ranking what's most important, thinking through different scenarios, looking beyond the facility, and keeping your options open are essential steps in an effective job search. Good luck in your search. Of course, if you already know what you're looking for, then simply enter your job criteria on CompHealth's
physician job board
. It's a great way to find the available opportunities that match what you're looking for.