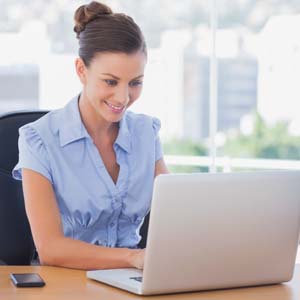 Do you use LinkedIn to connect with colleagues? This social network is a great way to display your work experience, showcase your unique skills and find a new position at a hospital or other healthcare facility. Whether you're looking for a new job or just want to make your work history more appealing, these five tips can help you improve your LinkedIn profile:
Include a professional headshot with your profile. The first thing people will notice is your photo, so make sure it's high-quality and reflects the industry in which you work. While it's not necessary to have a studio-quality photo, your profile picture should have a simple, monochromatic background and be cropped from your shoulders up. Business attire such as a blazer, collared shirt and tie is recommended, but a photo taken in your lab coat is also appropriate.
Use the headline section to list your current position or promote the job you're looking for. By default, LinkedIn will fill this section with your current job. However, you can customize it by clicking the Edit button at the top of your profile. If you're in the market for a new position, include a description with specific keywords employers are looking for. For example, you could write "Family practice doctor with 20 years of clinical experience" so that your profile would show up in both LinkedIn and Google search results.
Write your descriptions in clear, conversational language. Though your colleagues may be familiar with technical terms and medical acronyms, a hiring manager at a hospital or clinic may find these confusing. Spell out even the most common abbreviations, like PA or NP, on first reference and list all relevant experience in the summary section of your profile. Be sure to write in the first person at all times to keep your descriptions friendly and easy to read.
Be sure to include contact information on your profile. Prospective employers and other friends can get in touch with you through InMail (LinkedIn's email system), but the contact information section on your profile is a great place to list an email address, relevant blog link or even a cell phone number if you'd like to be contacted. Remember that everything you post in this section is public, so keep your contacts (and prospective contacts) in mind as you update it.
Set a customized profile URL you can share easily. If you haven't already done so, edit your profile URL so it includes your name instead of letters or numbers. Doing this makes your profile more professional and also allows you to add the link to your signature line or blog so others can connect with you on LinkedIn.
These simple tips can help your profile stand out to both colleagues and employers — and they can also help you gain more confidence in promoting the unique talents you bring to the healthcare industry. SEE ALSO:
Tips for Staying HIPAA-Compliant on Social Media