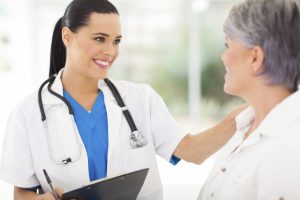 With the influx of Americans gaining access to healthcare coverage and an aging population in need of accessible care, facilities are desperately seeking quality medical providers to treat the unprecedented surge of patients. To fill the growing need, many hospitals and clinics are turning to nurse practitioners (NP) and physician assistants (PA), making clinicians with these advanced degrees a hot commodity in the healthcare realm. According to a recent study by the
American Association of Nurse Practitioners
(AANP), the number of licensed NPs in the United States has nearly doubled over the past ten years.
The need for NPs and PAs is so vast that finding one to fill an open position is becoming an exceedingly long and difficult process for facilities. But a lengthy hiring process can leave a facility at a competitive disadvantage, which in turn leaves its patients and bottom line at a loss.
How Can Your Facility Gain the Competitive Advantage?
In a candidate's job market, it's tougher to stay ahead of the competition. It's important to streamline your hiring process to fill the position faster, ultimately saving you money. Here are five easy ways to improve your hiring process:
Determine what you're looking for. Solidifying what your facility is looking for in a NP/PA will make it easier to choose a candidate that fills your requirements. It will also help you create a concise and informative job description that accurately reflects the responsibilities and role the new provider will be expected to perform.
Don't underestimate the power of perks. Not only is the compensation for NPs and PAs increasing to keep up with the demand, but offering perks — like sign-on bonuses and relocation assistance — will help your open position stand out.
Take advantage of a healthcare staffing firm's resources. Healthcare staffing firms are a useful resource for finding the best permanent or temporary providers to fill any need in your facility. CompHealth currently has access to more than 35,000 fully-vetted NP and PA candidates available to assist you in finding exactly what you are looking for.
Speed up the review process. Taking two or three weeks to review an applicant's resume, just to decide if you want to schedule a phone interview, often leads to losing that candidate to another job. Although it's important to take the time to find the right candidate for the position, it's equally important to secure the candidate quickly. When possible, schedule a phone interview with potential applicants within 48 – 72 hours of receiving their resume. And when you find a candidate you like, offer the position within 24 – 48 hours of the interview.
Be open to hiring new graduates. Many facilities are discovering the cost benefits of hiring new grads to fill open positions. This year alone, 37 percent of CompHealth's placements were new graduates. However, whether or not you hire a new graduate, it's beneficial to ensure you have an onboarding training program for all new hires to quickly familiarize them with your facility's policies and procedures.
Still not sure about bringing on a mid-level provider? Check out 
5 Benefits of Employing a Physician Assistant
.