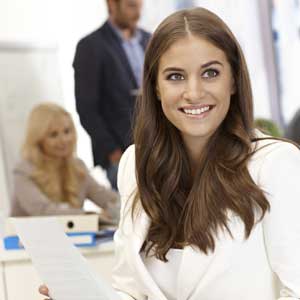 Administrative Professionals Day, celebrated each year on a Wednesday during the last full week of April, is a great time to recognize the assistants, secretaries and other staff members who work behind-the-scenes in your facility. Here are five ways to making Administrative Professionals Day special for them.
Leave a hand-written thank-you note on your assistant's desk. While your staff is probably used to receiving holiday or birthday cards each year, a note that includes your personal thanks for the little things they do, like ordering office supplies or restocking the cabinets, will make them feel appreciated.
Give your secretary a gift card that fits his interests. Though a gift card for a restaurant or department store might seem impersonal, it can be the perfect gift if it shows you pay attention to what your secretary or assistant enjoys doing. If you notice that your desk clerk always has perfectly manicured nails, buy her a spa or beauty supply store gift card. An assistant who frequently goes fishing on the weekends might love a gift card to a sporting goods store.
Treat your staff to breakfast or lunch. What better way to say thank you than to take your secretaries and assistants out to eat? If you can't get someone to cover the office for a few hours, consider having a catered meal on-site instead — or take one or two staff members to lunch at a time on different days during the week.
Have flowers or other plants delivered to the office. Floral arrangements are a thoughtful way to show appreciation and can brighten up your assistant's desk for a week or more. If you're worried about allergies or work in a facility that does not allow cut flowers, consider buying potted cactuses or succulents instead. These require little maintenance and are appropriate gifts for both men and women.
Allow your assistant to leave early or have the day off. Sometimes the nicest way to recognize hard-working employees is to give them a break. While you may not be able to grant your secretary an entire workday off, sending her home a few hours early can make a big difference.

ese simple tips can ensure that your support staff feels valued on Administrative Professionals Day. If you have other ideas for recognizing your assistants, share them in the comments!