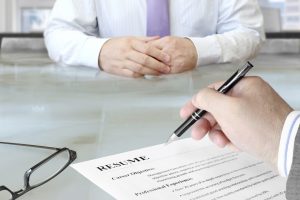 In today's competitive job market, having a compelling CV is essential to standing out among the crowd and landing an interview. Here are six simple ways to create an engaging CV:
Choose a Name
Do you have a nickname or use a suffix? Do you have a long or difficult-to-pronounce name? These are things you should consider when deciding what name to use on your CV. The name on your CV doesn't necessarily need to be your legal name, so choose the name that's easiest to remember and best represents you.
Mind the Gaps
When listing your schooling and professional experience, don't leave anything out. Employers want to know where you've worked and how you've spent your time since graduating. Any gap in the timeline will be a red flag. If you've taken time off in the past, have additional documentation available to explain why. Listing volunteer experience you gained while unemployed is one effective way to justify gaps in your CV.
Activate Your Words
Begin bullet points with active verbs such as taught, improved or visited, and use quantifiable numbers whenever possible to add significance to your experiences. For example, explaining that you helped 30 patients to gain their mobility in a rehabilitation center on a weekly basis is more effective than simply listing your general responsibilities at the facility.
Include the Details
List the year you received any certifications or recertifications. You'll also want to list your active and inactive licenses and expiration dates when applicable. Have you served in the military? Include branch and dates of service in month/year format. List hospital affiliations in month/year format to indicate the duration of time affiliated with each institution. You'll also want to include the address and telephone number of the institution and indicate the positions you held there.
Maintain Your References
Even if you don't include your references with your CV, you'll want to have them handy in case an employer asks for them. Make sure you have current contact information for each reference and check that you're still on good terms with them. SEE ALSO: 
8 Tips for Adding References to Your Resume
Don't Ramble
While CVs don't have the same length restrictions as traditional resumes, you should aim to keep yours as clear and succinct as possible. Remove redundant information and focus on the skills that are most relevant to the specific job you're applying for. As a rule of thumb, your CV shouldn't exceed four pages.
Templates
Check out this 
sample CV
 for an example of how to format your CV.
Sample CV
Still not sure where to start? Use this
template CV
 to get the ball rolling.
CV Template