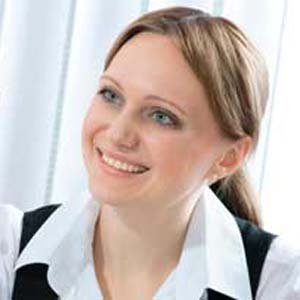 A job interview can be intimidating and a bit overwhelming, but it's also a great opportunity to showcase your talents and share your career experience with new people. With these seven tips, you're sure to make a great impression.
Dress to impress. While the person interviewing you may be wearing a lab coat and scrubs, you'll want to wear professional clothes to show that you're serious about the job. A dark blue, black, or gray suit and a light-colored shirt are always a safe bet for men, along with dark, well-polished dress shoes. Women should wear a dark knee-length (or longer) skirt, dressy blouse, dark nylons and polished heels. A tailored, dark-colored business suit, blouse and heels are also appropriate. Iron or steam your outfit that morning, and make sure your clothes are free of hair and lint. It's also a good idea to bring a lint brush with you and do a final check in the bathroom before going to your interview.
Do your homework. It's obvious when you don't know much about the company you're interviewing with. Prepare beforehand and find out how many employees work there, when it was founded, what the mission is and how the company is growing. You may also want to connect with current employees or leaders on LinkedIn and see what they enjoy about their jobs. LinkedIn is also a great way to learn more about the people interviewing you and get a feel for their skillsets and personalities.
Be as friendly and relaxed as possible. Even if you're nervous, make sure that your body language indicates you are confident and well prepared. Sit up straight with your hands in a comfortable position, smile, maintain eye contact and modulate your voice. Maintain a positive attitude throughout the interview, especially while answering questions. This shows that you're interested in what the interviewer has to say, and it can also help you calm your nerves and feel sure of yourself.
Turn your strengths into skill statements. Think about how you can use your skills and education to benefit the employer, and come up with specific examples you can mention in the interview. For example: In addition to my clinical qualifications, I am certified in CPR techniques and can conduct staff training programs and community education classes. These skill statements can also help you answer questions about why you should be hired or what makes you the best candidate for the job.
Know your weaknesses, and be ready to turn them into strengths. Many interviewers will ask you about your flaws to see how you'respond under pressure and find out how you've reacted to negative situations in the past. If you're asked to talk about your greatest weakness, be positive and show that you've learned (or are learning) to overcome it. You might talk about how you get disorganized on busy days and mention that making lists help you stay focused and meet deadlines. Doing this demonstrates that you learn from mistakes and are aware of your shortcomings.
Have questions for the interviewer in mind. Once you've answered every question and talked about the job specifics, the interviewer will usually ask if you have any questions. Use this opportunity to prove you've done some research and are familiar with the facility. Ask the interviewer what she likes best about her job, or inquire about the company's biggest opportunity for growth. Remind the interviewer that you'd be a great fit simply by asking thoughtful questions that show you're genuinely interested in the position.
Follow up soon after your interview. Be sure to send a written thank-you note within a few days. Use the interviewer's name in the note, restate your interest in the position and briefly reiterate what you could contribute to the company. Thank him or her for the opportunity and for taking the time to meet with you. While a hand-written thank-you note is preferred, an email is another great way to reconnect if you're short on time or unable to find an address quickly.
These tips can help you stand out from other candidates and be confident in what you have to offer. Remember: Whether you are hired or not, going through the interview process helps you develop your skills and prepares you to interview successfully in the future. RELATED ARTICLES: