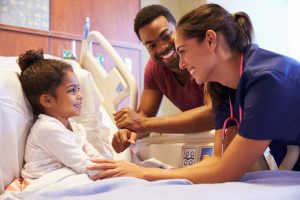 More than
40,000 healthcare providers work locum tenens assignments
and enjoy the many benefits it has to offer. But before you decide if locum tenens is right for your professional and personal lifestyle, there are a variety of factors to consider that go beyond whether your schedule can accommodate extra shifts every now and then. Factors like skill set, finances, and even personal temperament need to be weighed before making your decision. Here are a few things for you to consider.
1. What are the benefits of working locum tenens?
Whether you're a seasoned provider looking for a more flexible schedule or a resident trying to gain clinical experience before taking a full-time job, there are many
benefits to accepting locum tenens assignments
, including earning extra income, broadening clinical experience, and achieving work/life balance. Watch this video to learn more about the benefits of locum tenens. [su_youtube url="https://www.youtube.com/watch?v=dPB2H3qq8aM"]
2. Am I flexible and able to adapt to new environments?
If you're the type of person who enjoys experiencing new surroundings and practice settings, then locum tenens is a great option for you. Locums providers are on assignment anywhere from a couple of days to a couple of months and need to be able to adapt to the different workplace and community settings. For those who can, the benefits are numerous. Dr. Val Jones explains what it takes to be a great locum tenens physician. [su_youtube url="https://www.youtube.com/watch?v=OBtMxZm1WGU"]
3. Do I enjoy meeting new people?
Being a people-person is a definite plus in locum tenens. Not only do you experience different practice settings, but you also get the chance to meet new people — staff, patients, and people in the community. Oftentimes our providers come away from their assignments with an expanded professional network and longstanding friendships. Dr. Madeleine Geraghty shares how she feels like part of the team on her locum tenens assignments. [su_youtube url="https://www.youtube.com/watch?v=XmQABdH7O5o"]
4. Am I confident in my clinical competency?
Locums providers need to have strong clinical skills that enable them to adapt to different styles and protocols. The temporary aspect of locum tenens doesn't allow for a lengthy orientation. Providers are expected to get up to speed as quickly as possible. Find out how locums assignments allowed Dr. Geraghty to not only share her medical expertise with other providers, but learn new clinical skills as well. [su_youtube url="https://www.youtube.com/watch?v=5uI3_C2AZSo"]
5. Do I have a desire to travel and explore the country?
Locum tenens gives providers the opportunity to explore all that our nation has to offer. Many providers use their downtime while on assignments to explore the surrounding areas and see things they normally wouldn't have the chance to experience. If you have adventure in your blood, then locum tenens is the perfect fit for you. Dr. Beverly Ricker explains how her CompHealth travel coordinator takes care of all her travel arrangements, including getting her to her vacation destination. [su_youtube url="https://www.youtube.com/watch?v=nOAU0PtklwY"]
6. How will this impact my family?
For many locum tenens providers, working temporary assignments full time has improved their family life. Take for instance, Dr. Tina Passalaris. Locum tenens has helped her spend more time with her family. [su_youtube url="https://www.youtube.com/watch?v=WLs97KpKaL0"] However, you and your family need to decide if you are comfortable with temporary absences. Fortunately, today's video technology like Skype and FaceTime help personalize calls home to loved ones and make the time away easier to bear. Or you could approach locum tenens like Dr. Thomas O'Mara who takes his whole family with him on assignments, giving them the opportunity to experience different places and cultures together. [su_youtube url="https://www.youtube.com/watch?v=qX6ULHeGHTs&index=3&list=PLGGdyhMzV2RDllrdSzbiETgbMTjFfzKYA"]
7. Would working locum tenens full time or part time work better with my lifestyle?
Working part-time or full-time locum tenens is really up to your lifestyle. There are benefits to both. We have some providers, like Dr. John Thieszen, who take on occasional temporary assignments to supplement their income from his permanent job. [su_youtube url="https://www.youtube.com/watch?v=suDKr5Qov1w"] We also have providers who
work locum tenens full time
and enjoy the flexibility and income it provides. Dr. Johnny Shen has been a locum tenens physician since he left residency and loves getting to travel and being in charge of his schedule. [su_youtube url="https://www.youtube.com/watch?v=dFwejTLY_NM"]
8. What is the expense?
A reputable staffing company will take on the expense of transportation, housing, and malpractice insurance and compensate providers for their hours on duty. However, locum tenens professionals are not employees of their staffing companies. Rather, they are independent contractors, responsible for paying state and federal income tax for each assignment's earnings. CompHealth not only pays for your travel and housing, but also takes the time to find housing that fits your lifestyle. [su_youtube url="https://www.youtube.com/watch?v=6SHWoYXzCA8"]
9. What should I look for when choosing a staffing agency to work with?
Not all staffing agencies are created equal. To have the best possible locum tenens experience, it's important to work with an agency that will meet each of your needs. Having someone to support you before, during, and after you start your locum tenens assignment makes all the difference. Look for an agency that supports you throughout every step of the process. For instance, in addition to covering your malpractice, housing, and travel expenses, our in-house credentialing and licensing team handles much of the necessary paperwork for you. Just one more thing you don't have to worry about.
Before committing to a staffing agency, ask these seven questions.
Do you think you're ready to take on locum tenens assignments?
Contact one of our recruiters
to get started on your journey.