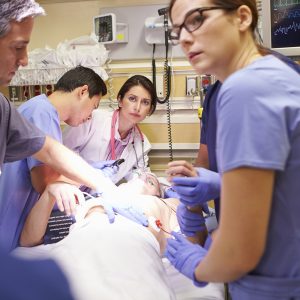 Imagine frantic parents rushing into an emergency room, holding their unresponsive daughter. The girl has shallow breathing, dangerously low blood pressure and oxygen levels, and a high fever. Her blood pressure is so low that her heart is in jeopardy of stopping if left untreated any longer. That's where the emergency room team comes in. Within five minutes, they've given her large amounts of fluids through an IV access placed straight into her bone, started her on two different medicines to increase her blood pressure and keep her heart going, given two different antibiotics to immediately start fighting any infection causing her symptoms, and performed an intubation to breath for her. In 10 minutes her vitals stabilize. Life and death situations like this are a common occurrence in an ER. And although still relatively in its infancy, this specialty plays a vital role in our healthcare system. "That initial management and stabilization of a patient is truly a specialty on its own, and we as emergency medicine providers have taken full ownership of it and are proud to do it," shares Dr. Matt Murray, UCSD Department of Emergency Medicine.
RELATED: 6 Things We Learned from "24/7/365: The Evolution of Emergency Medicine"
The Frontline of Medicine
Emergency departments have become the frontline of medicine, treating a range of patients from those who don't have access to primary care providers to patients with traumatic injuries. The ER team works together, making split decisions to save patient lives. "From the doctors to the nurses, techs, respiratory therapists and secretaries, everyone plays an important role in the patient's survival," says Dr. Murray. "We are usually the first in-hospital providers to meet the sickest of the sick and have the biggest opportunity to make the most difference. Whether the patient lives to see the cardiologist, or the neurologist, or the trauma surgeon is usually up to us."
Addressing the Growing Need
A recent
study
by the American College of Emergency Physicians (ACEP) shows that the number of ER visits have risen since the rollout of the Affordable Care Act. "The reliance on emergency care remains stronger than ever," says ACEP president
Michael Gerardi
. "It's the only place that's open 24/7, and we never turn anyone away. Rather than trying to put a moat around us to keep people out, it's time to recognize the incredible value of this model of medicine that people need." An influx of patients means an increase in emergency medicine physicians to fill the need, which in turn leads to a higher demand of
locum tenens doctors specializing in emergency medicine
. Locum tenens not only allows physicians to make a difference to patients in need of quality medical care, but also to take better care of themselves. Many physicians enjoy the scheduling flexibility that locum tenens assignments provide, as well as the opportunities to learn by
practicing in different teams and settings
. Check out CompHealth's
open emergency medicine jobs
.