Two crossfit enthusiasts seeing the country in a motor home – that's the lifestyle PT husband and wife Michelle and Cameron Moore have created out of a travel career they began in 2017 by seeing orthopedic outpatients in Indiana. Originally from Arizona, the Moores were immediately captivated by their newfound mobility and the abundant sights and activities near their assignment locations.
"From Indiana, we swung by Madison, WI to watch the Crossfit Games before heading to Connecticut for our next assignment.  Here we worked with an orthopedic group treating a variety of patients. We also had an opportunity to do an in-service for the staff on our specialty training in dry needling, spine manipulation, and other types of manual therapy. We enjoyed the central location that Connecticut offered us to explore Boston, Cape Cod, and New York City. Our third assignment has been in Sunset Beach, North Carolina in an outpatient orthopedic clinic." ~ Michelle Moore
The Moores say it's hard to pick a favorite assignment, but being from the desert Southwest, they admit that being five minutes away from some of the country's most beautiful shorelines is a big draw for them.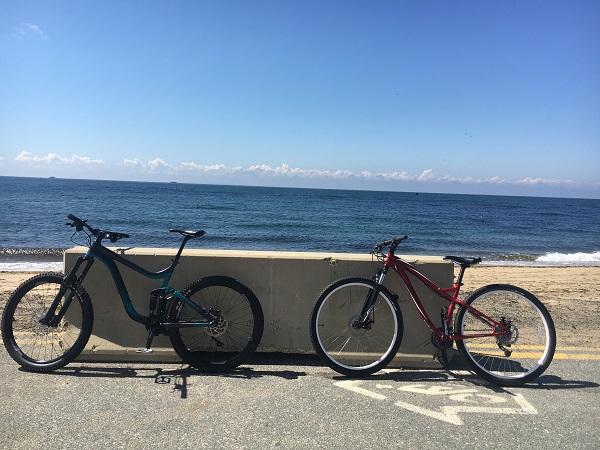 Advantages of life as a travel PT
On the personal front, the travel assignments they choose place Michelle and Cameron in easy reach for weekend getaways to places like Boston, New York City, Chicago, Charleston, Cape Cod, and southern Maine. Professionally, they enjoy getting to experience the inner workings of different clinics, and the chance to collaborate with colleagues. They also enjoy the schedule flexibility that allows them free time between assignments to visit family and plan fun side trips as a couple. The travel lifestyle is also ideal for their outside interests. Michelle and Cameron share a passion for outdoor activities like mountain biking, trail and beach running, and hiking. They've also found it easy to make friends in their new communities.
"We're avid crossfitters and enjoy the community that the gyms bring when we're new to different areas. Cameron grew up racing motocross and will sneak away for an afternoon ride at a local track on the weekend if we aren't away exploring the surrounding cities. We've met a ton of people through the crossfit community and through our co-workers." ~ Michelle Moore
Discovering travel therapy
Michelle and Cameron found travel therapy through friends who introduced them to recruiter Laurie Howe at CompHealth.
"After interviewing recruiters with several companies, we knew Laurie's passion for her work and confidence to place both of us in outpatient orthopedic settings was the right fit for us. We were also drawn to the assistance that CompHealth offers with PT licensing between states, as we had heard this was one of the biggest hurdles for others who have traveled." ~ Michelle Moore

Advice for those considering a travel therapy career
The number one tip that Michelle and Cameron recommend is to get out and explore on the weekends. They say that the locals they've met always give them the best advice on things to do, and they encourage new travelers to take full  advantage of these opportunities.
"Living in an RV has made living on the road and transitioning between jobs very easy and enjoyable.  We're able to have our dog with us on the road and the monthly rates at campgrounds are pretty reasonable. Laurie and the CompHealth team have done a great job at making the whole traveling process seamless." ~ Michelle Moore
The Moores are taking their own advice and loving the freedom and flexibility of their travel therapy lifestyle.