CompHealth's travel therapy staffing division attended last month's American Physical Therapy Association (APTA) Combined Sections Meeting. According to the
APTA website
, this was an opportunity for "more than 9,000 physical therapy professionals from around the nation" to experience "stimulating days of exceptional programming, networking opportunities, and an exhibit hall filled with products and services." Laurie Howe, Provider Representative, and Michelle Freund, Placing Manager, represented CompHealth at our booth. We asked them a few questions about their experience there, and what was happening on the floor. Here's what they had to say:
1. What was your favorite part of APTA-CSM?
(Laurie): This year's APTA-CSM brought a mix of both experienced PTs and new graduates; Michelle and I were able to meet and interact with both current and past travelers. My favorite part was that two of our PT travelers mentioned they traveled with us to our competitors, who replied "Wow, CompHealth is a good company - they [their parent company] were
number 3
on the FORTUNE 100 Best Companies to Work For list!" (Michelle): I loved talking to all of the therapists. There were a lot of new grads in attendance and I enjoyed explaining to them travel therapy and all of its benefits. Watch two PTs talk about travel therapy with CompHealth
2. What were the trends people were talking about at the conference?
(Laurie): The buzz seemed to be over the ever evolving healthcare system; budget cuts to hospital and rehab funding, which has cut therapy department staffing sizes. The jobs are out there - but the therapists are realizing they have to be more flexible than in years past and work within the system. The new grads and students are aware that they're coming into an evolving job market and seemed open to changing with the times. (Michelle): I have to agree with Laurie on these questions. Experienced therapists seemed to be a little concerned and anxious to see how it will all play out. New grads understand that they will have to be a little more flexible than PTs have been in years past.
3. What are Physical Therapists? biggest concerns in finding a great job?
(Michelle): In addition to the above, experienced travelers just seem concerned about the lack of jobs in previously high-demand areas,
such as Texas
.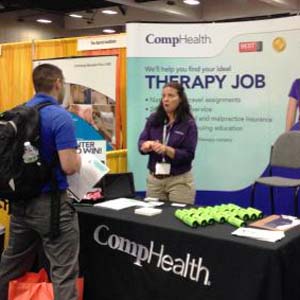 Laurie chats with a PT at APTA in January. If you're looking for career opportunities as a PT, find the latest in our updated database of PT jobs.