Nurse practitioners know that their jobs require being adaptable, from working with new patients to learning new medical practices. This is especially true for
locum tenens NPs
, who face new situations every day. We talked to two CompHealth nurse practitioners, Linda Bell and Kezia Cottenoir, about how being able to adapt has benefited their careers. Here are four ways being adaptable can help you be a better NP.
1. You learn to work in new environments
Kezia Cottenoir has been a nurse practitioner for ten years, and a locums nurse for two years. She remembers when she was on the plane for her first locums assignment, on her way to practice outside of Texas for the first time. She was nervous, but she remembered to be adaptable: "When I approach a new assignment, the number one thing I always tell myself is I am a guest at their institution," said Kezia. "You need to adapt and just be open-minded." Linda Bell has been a nurse practitioner for about 15 years, and a locums NP for about two and a half years. That comes after about 40 years of being an RN. Linda is originally from Alabama, but she has lived in Florida for the past 30 years. One of her locum tenens assignments was in northern California during the state's wildfire season. When patients had a hard time getting to the clinic, or they were displaced by fires. Linda quickly adapted. She found the
American Red Cross
shelter and volunteered to care for those in need, and she partnered with local pharmacies to make sure they got the medicine they needed. Her work in Florida had prepared her for this fast thinking — she had already helped victims of hurricanes, tornadoes, and flooding. "When people are displaced, you just have to give them a hug, sit down, and listen to their concerns," said Linda.
2. You learn to rely on your team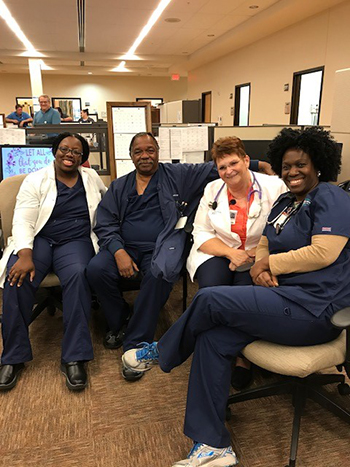 When you're able to adjust to be part of a team, your ability to do your job will skyrocket. Kezia emphasizes the importance of learning from coworkers. She explained that if you're in the process of trying to adapt, but you're not quite sure where to go, coworkers are a great resource. "It never hurts to have colleagues that you can brainstorm with," said Kezia. For locums assignments, your recruiter is one of your most important teammates. Linda explained that her recruiter, Gaelle, always checks in on her during her assignments, to see if either of them need to change anything for the current or future assignments. "It gave me that confidence in the company that sent me out, that I wasn't out on my own. It's so nice to have that recruiter contact me every week," said Linda.
3. You can apply your knowledge in different scenarios
A great benefit of adaptability is the fact that you can bring your strengths from outside of work to help you in your job, and vice versa. In addition to locums work, Linda has done mission work and community training in Vietnam and several countries in Africa. In these communities, she teaches young doctors and nurses advanced cardiac life support. Usually, these communities wouldn't get that kind of medical training. Linda has adapted this training for use stateside. Her full-time job is running an education program, in which she teaches new nurses about community medicine. By being able to adapt her nursing skills and apply them to different scenarios, Linda has helped nurses around the world give better care.
4. You'll understand different cultures better
Linda has what she calls a "windshield survey" when she arrives in a new community. When she drives through the community, she looks out the windshield and observes the types of businesses that are there, the homeless population, the cultural mix, and so on. This way, she has an idea of the people she'll be serving in the clinics she works for. "You have to understand your community in order to really understand your patients that come in," said Linda. Kezia explained that during her work, she's met people from different cultures who need a different type of care, or they need an extra explanation. She said that when you acknowledge these cultures, and learn from them, you can be a better nurse. "People comprehend differently in different cultures so you have to adapt your method of teaching to their level of comprehension or form a reference point from their culture," Kezia said. Whether you're a locums or settled in a permanent position, learning to be more adaptable can help you become a better NP, because it will help you be flexible when it's needed most.
Are you ready to learn new things and try new experiences as a locum tenens NP? Give us a call at 800.453.3030 or view today's  locum tenens NP jobs.