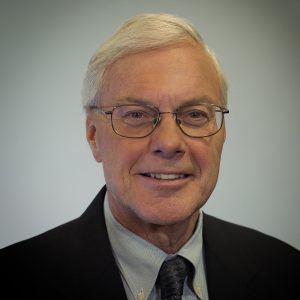 Needing a change from his pharmacy career, Michael Higginbotham decided to pursue a medical career in
cardiology
. For more than 40 years, he has enjoyed the intellectual aspects and vast experiences that practicing medicine has to offer. "Medicine allows you to acquire knowledge and skills that you wouldn't find anywhere else. You become something that you weren't before," says Higginbotham. "And cardiology is a component in every branch of medicine and with every patient, providing me the opportunity to pursue something that gave me more meaning."
Finding a Retirement Solution
From performing open-heart surgeries in Australia to doing nuclear cardiology research at Duke University, Higginbotham's career has provided him with a variety of unique experiences and allowed him to help many people along the way. But with decades of practicing medicine under his belt, he was ready to enjoy the benefits of retirement. The only problem was he wasn't ready to give up practicing medicine. Locum tenens provided him with the solution. "Locums is ideal for people like myself who want to be part-time physicians," Higginbotham shares. "The expression retiring is something that people use and it sounds like retirement is inevitable and you're just kind of slipping out. But I think it's more than that. It's a distinct segment of your life when you're done with being on call. You're older and less physically resilient. You just can't take it anymore and you don't want to take it anymore. You get too tired and you get fed up with that. But there's a period when you want to do part-time work. You actually want to be working part time and then getting to enjoy yourself part time."
Finding Time for Your Passions
Working locum tenens assignments gives Higginbotham the best of both worlds. He gets to work as a physician and pursue the things he's passionate about outside of work, like spending time with his wife and his eight Westies.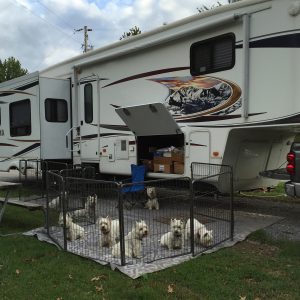 "The part-time retirement phase is more a flexible phase where you want to work and in between assignments, you really get to relax and enjoy the other aspects of your life," says Higginbotham. "For me, the most important thing is to be useful until you can't be useful anymore." In addition to participating in a few dog shows on his off-time, Dr. Higginbotham also enjoys bringing his wife and dogs along with him on his locum tenens assignments. "When there's a longer opportunity, we work out a way for us to all travel as a family," he shares. "We've had a couple of extended opportunities, the last of which was in Denver, and my wife and dogs came out with me in the RV."
Finding the Right Locum Tenens Partner
To have a successful locum tenens experience, Dr. Higginbotham suggests finding a recruiter that takes the time to listen and understands the importance of building a working relationship based on respect and clear communication. "I get calls occasionally from other locums companies who I talked to a long time ago," he says. "They never got back to me and they created no relationship, and then they call me up and say that I can go somewhere I can't possible go tomorrow to a place where I told them previously I didn't want to go. I know that when something comes up for me at CompHealth I'll get a call. If an invitation to go to Hawaii and take my dogs across the ocean comes up, my recruiter won't call because he knows me. I've always thought I got lucky working with CompHealth." Want to start your own locum tenens journey? Check out our
open physician jobs
or
contact one of our recruiters
today.