If you're thinking about working
locum tenens
for the first time or just curious to learn more, you may have asked yourself questions like:
What is working locums really like?
Are there ways to make it easier?
What pitfalls should I avoid?
Is locum tenens work right for me?
Here are three books that answer those questions and many more. Whether you're looking for a short-term assignment or seriously considering changing your approach to practicing medicine, be sure to check them out. You'll be glad you did!

Putting Out the Fire: How to Prevent Physician Burnout
Dr. Christopher Burton's
book, Putting Out the Fire, is more than just an exploration of the locum tenens experience; it's a great resource filled with practical advice and insights on how to recognize, prevent, and address burnout — a problem virtually all physicians face at one point or another. In a chapter devoted specifically to locum tenens, he details the ways this type of work can help physicians avoid burnout. He describes locum tenens as "an easy solution to implement [that] works well for many physicians…it provides a tremendous amount of flexibility and the experience can be customized to meet your needs." Dr. Burton explores both the pros and cons of working locums in a balanced, objective manner that can help you determine whether or not it may be right for you. Dr. Burton's book is a quick read that will give you an good overview of locum tenens work and how it can be a solution for addressing and preventing physician burnout.
Buy it on Amazon
|
Request a Free Paperback Copy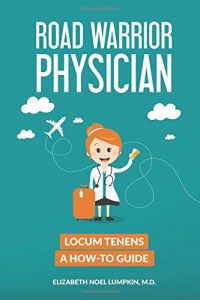 Road Warrior Physician
For a deeper dive into the world of locum tenens,
Dr. Noel Lumpkin's
Road Warrior Physician is a great practical resource. Drawing on her experience of more than a decade of work as a full-time locum tenens physician, Dr. Lumpkin provides lots of practical advice and tips on working locums. She covers everything from how to find a locum tenens job — either on your own or with the help of an agency — to travel and packing tips. Particularly helpful are her detailed explanations of the day-to-day locums experience, such as:
How to get ready for your locums assignment
What to expect when you report for work
How to cope with the myriad of details associated with entering a new work environment
For example, she shares many simple tips that make working in a new location easier, such as using your cell phone camera to capture snapshots of forms you may need, or taking a Ziplock bag to hold the badges, tags, and papers you'll acquire on your first day. Dr. Lumpkin's book is a must-read for anyone considering doing locums work for the first time. Even if you're a locum tenens veteran, the book is chock full of valuable tips that can make locums life easier.
Buy it on Amazon
 |
Download 4 Chapters for Free
 |
Request a Free Paperback Copy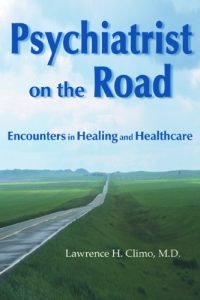 Psychiatrist on the Road: Encounters in Health and Healthcare
Dr. Lawrence H. Climo came to locum tenens work very late in his career. He was unexpectedly laid off at age 65 from an 18-year position on the psychiatric staff at a New England inner-city mental health clinic. Rather than calling it quits and retiring, he applied for a temporary psychiatric position with the Public Health Service for American Indians in Gallup, New Mexico. His book, Psychiatrist on the Road, is a deeply personal account of his experiences as an itinerant psychiatrist. It's insightful, often funny, and sometimes heartbreaking as he relates his encounters with patients across the United States. Dr. Climo ended up embracing his new lifestyle and discovered a new passion for his chosen profession. "I found myself reconnecting with some familiar and not-so-familiar insights into my field and myself," he says. "[It] is not about psychiatry. It isn't even about the psychiatrist or psychiatric treatment. It's about healing." Unlike the first two books, the narrative here is less about the practical aspects of locum tenens and more about how the experience changed Dr. Climo and the patients he met and cared for. It's a great way to gain insight into how locums work can change the way your look at healthcare.
Buy it on Amazon
These are a few of the best books we've found to help you understand and prepare for locum tenens work. For more stories about physicians experiences with locums visit
locumstory.com
.
Do you have a locums story? Share it in the comments below!