The mission trip was family physician Dr. Joann Kim's first. It was the fourth trip for family practitioner,
Dr. Colin Zhu
, but his first to Cambodia. Drs. Kim and Zhu were among six locum tenens providers who traveled to Cambodia on a recent medical mission. They each had their own reasons for taking on such a philanthropic journey — to give back, to reconnect with why they had gotten into medicine, to make a difference. The mission was funded through a grant from the
Making a Difference Foundation
. The Foundation supports and assists healthcare providers in providing direct healthcare to underserved communities around the world. The CompHealth doctors were part of a contingent of 25 volunteers, which also included a pediatrician, a dentist, a pharmacist, NPs, nurses, and non-medical personnel. CompHealth Locum Tenens President Lisa Grabl and her husband Mark also volunteered for the mission. The entire medical mission was organized by the non-profit organization International Medical Relief (IMR).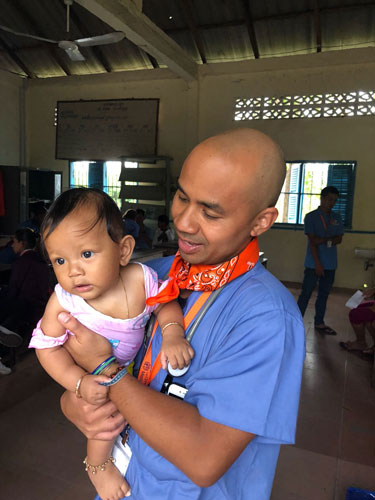 All were on route to the remote
Koh Rong Archipelago
in the Gulf of Thailand, one of the most impoverished regions in Southeast Asia. It would take two days of grueling travel by jet, bus, and boat to reach the island, Song Saa, which would serve as their home base. The medical mission's plan was to set up an impromptu clinic each morning on a given island of the Archipelago, treat the local population, and then return to base and prepare to replicate the effort on a different island the following day. A routine developed among the 25 strangers, who quickly morphed into a cohesive team. They organized themselves into a queue to pass supplies hand-over-hand until everything was stowed aboard the boat that would deliver the medical mission team to a different island each morning. The same human conveyer belt off-loaded the supplies at the island destinations. At each destination, they carried those supplies, sometimes up to half a mile, to the building assigned as the group's clinic. It was often a school house empty of kids due to summer vacation. They had as many as six rooms to work with and as few as two. It was agreed that the dentist would have first dibs on the room with the best light: he'd be pulling teeth all day, usually without a break, for ten hours straight. Dr. Zhu describes the island communities as "underserved remote villages, people living in shacks, a very poor hygienic mission. People would walk around barefooted. Education for the most part didn't exceed grade three or four. Men of the villages would become fishermen. They led a very simple lifestyle" that lacked access to basic resources like clean water and sanitation. The clinics were set up so that the island people's first stop was community education, then they would move on to triage where prelims like temperature and blood pressure were taken. Then they would go to one of the treatment groups where a doctor, a nurse and/or a NP did the general assessment of the person. 159 people sought treatment the first day. The team had expected to treat mosquito-borne diseases like dengue fever and malaria. They expected GI issues and skin conditions like rashes and fungal infections. But the number of people with high cholesterol or blood pressure or diabetic symptoms was distressing. "That's more chronic disease management," says Dr. Zhu, "and not sustainable" based off of the resources on islands which might see a doctor once a year, if that.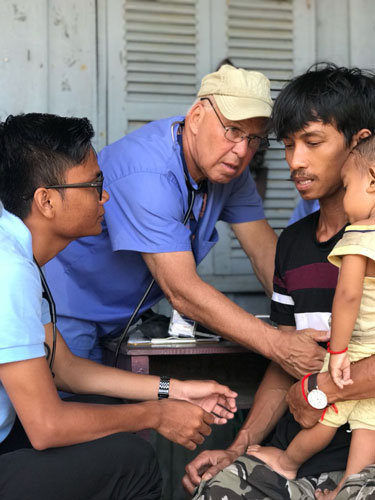 Diets of seafood, rice, and various Asian vegetables were healthy enough. But snacks and packaged foods found in village stores were taking their toll on community health. Education took on greater importance. The team members encouraged people with diabetic symptoms to limit their intake of fruit, rice, and packaged snacks to lower their sugar levels. They urged greater physical activity for lowering blood pressure. Mark and Lisa Grabl conducted classes around personal hygiene basics such as proper tooth brushing and handwashing. "We also shared the importance of only drinking clean water, as well as how de-worm yourself and how to avoid mosquito bites," Lisa says. "We gave out things like toothbrushes and toothpaste," adds Dr. Zhu, "a lot of bug repellent that was ecofriendly. We gave out fluoride treatments, vitamins, basics like Tylenol and Ibuprofen, pediatric doses as well." "You really don't need a lot to make a population healthy," says Dr. Joann Kim. "You don't need fancy technology. It's just a lot of public health stuff that really needs to be emphasized." By the end of their 10 days, the mission team had treated close to 550 people. "The Cambodian people," Lisa says, "were kind and grateful for our time and for the medical care." Although the medical mission was exhausting, she adds, "I wouldn't change it. The kids, in particular, just stole my heart. I often say
perspective is a gift
, and that's what I felt like I walked away with the most: the gift of perspective and gratitude in all parts of my life."
To learn more about International Medical Relief, visit their website at www.internationalmedicalrelief.org. For more information about CompHealth and working locum tenens, call
800.453.3030
or view today's job opportunities.