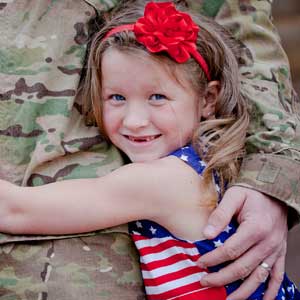 On Saturday, May 17, the U.S. will celebrate the annual Armed Forces Day. It's a great time to honor Americans who have served our country in times of war and peace. It's also an opportunity to say thank you to the service men and women who provide medical care in the military. After retiring from the military, many healthcare professionals continue to practice medicine in private or government settings, both on a temporary or permanent basis. Here are a few of the great military veterans who have worked with CompHealth over the years.
Adventures in the Navy and Marine Corps
— It was a sense of adventure that brought Dr. Thomas Anderson to the Navy. "The [Navy] recruiter said, 'I can make it possible for you to practice medicine in the morning and fly jets in the afternoon,'" Dr. Anderson recalls. "I said, 'Where do I sign?'" He became a Navy flight
surgeon
and later served in the Marine Corps. He now fills locum tenens assignments across the U.S. and internationally. His assignments have ranged from in-the-trenches community health clinics to exotic locales like the Havasupai Indian Reservation, a village at the bottom of the Grand Canyon accessible only by helicopter or horseback.
Click here to read more
.
Army Buddies Reunited
— Tom Litney served in the army as an
occupational therapist
. After retiring, he found that he didn't want to sit still, so he turned to traveling OT assignments. He also encouraged his old army buddy Don Michael to give locum tenens a try. "Don signed up and came to help out on a 13-week assignment. It's great to have the opportunity to work with a friend and have time afterwards to catch up on life," Tom says. "I wanted to take a break from being at the same place at the same time every day," Don adds. "I am young enough to realize that I can travel and old enough to realize that my future is not dependent on a stationary setting."
Click here to read more
.
Finding Wings in the Air Force –
Diane Lee joined the Air Forces' OB/GYN nurse practitioner program in 1976. "I enjoyed learning more about women's healthcare and the increased autonomy that being a
nurse practitioner
provided. The USAF was a good place to learn and grow as an NP. I had four permanent assignments at AF medical centers, three hospitals, and a clinic. Each place let me see different problems and ways to deal with them. Some of the best moments as an NP are working with women to help them make good decisions about their care."
Click here to read more
. To the members of our military, both past and present, we say thank for keeping us safe—and healthy. Thanks for all you do! Click for military and government job opportunities
for physicians
and
nurse practitioners
.