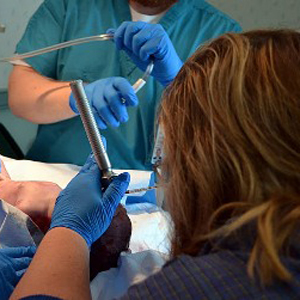 It's National NP Week, and we are celebrating the role of nurse practitioners by featuring one NP each day. They work in a variety of specialties and settings, but all share the love of caring for patients and working in this growing profession.
Susan D. Almarode, RNC, MSN, NNP-BC
Graduate education and NNP orientation coordinator University of Virginia Children's Hospital NNP since 1996
"I knew from the age of 10 years old that I wanted to be a nurse and work with newborns. I initially thought I would work in the newborn nursery, but as I progressed through my undergraduate program, I became more interested in critically ill newborns and infants.
Once I finished school, I started my nursing career in a level III NICU. I accelerated quickly with my clinical skills. I was trained as an ECMO perfusionist and transport nurse, and I found myself at a junction in my career of either following the leadership/management pathway or pursing a more advanced clinical degree.
I never thought of medical school. I had no role model for advanced practice nursing but had read about neonatal nurse practitioners in physician extender roles on the West Coast. I decided to go back to school and become a NNP, believing I could provide care as good as, if not better care than the residents I was working with.
I think I was inspired to become a NNP because I truly believed I could make a difference in outcomes and provide quality care to sick newborns. Not until later in my career did I truly appreciate the multiple dimensions of the role and the impact that I, as an advanced practice nurse, could and do have on healthcare, education and research.
I am often asked by family and friends about the emotional toll and stress that comes along with working with critically ill and premature infants. I have always said that if I did not maintain the essence of care and compassion core to nursing care, I needed to move on or retire. There should be emotion in caring for others, and part of the satisfaction in being an APN/NNP is feeling both joy and sadness each day, hopefully more one than the other.
I enjoy many aspects of my role. I come from a family of teachers, and I have evolved into the coordinator for graduate education in our NICU and am the lead preceptor for all NNP students that complete their clinical practicums in our unit, as well as for all new NNP hires. I am on the clinical faculty at several institutions.
I have found that as I have matured in my career, I no longer seek to be in the center of the chaos, managing the sickest babies, doing all the procedures, being the adrenaline junkie. I am more suited to stepping back, assessing the situation, providing guidance and leadership as needed, and educating my peers and students on process and management. I am inspired every day by the families I work with, the infants I care for, and the colleagues and peers I work alongside.
With the overwhelming changes in resident education, NNPs are becoming an even more important player in the work force. Despite research and efforts to reduce prematurity, NICUs continue to thrive and populate with sick and premature infants. There is job security within the field of healthcare. The locum tenens position meets a vital need by providing skilled practitioners who can jump right in and provide safe, quality medical care to a fragile patient population.
CompHealth has consistently provided our unit with experienced mid-level providers who have become an essential part of our team. These practitioners have come to work every day just as committed as permanent staff in improving outcomes, doing a good job, and making a difference.
I think the unique aspect of locums positions is experiencing different unit environments, learning different ways to manage patients, and constantly re-evaluating evidence based practice in every unit you work. I suppose you have to be an adaptable person by nature and willing to embrace change, as each assignment brings with it new and interesting situations."
NPs: Check out the AANP resource guide for National NP Week [PDF].