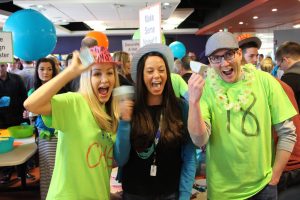 CompHealth's parent company
CHG Healthcare Services
  has been named one of the country's
100 Best Companies to Work For
by FORTUNE magazine. CHG ranks No. 18 on the list, which recognizes companies that have exceptional workplace cultures. This is the seventh straight year that CHG has made the list. "We're honored to once again be recognized as one of the nation's best workplaces," says Scott Beck, CEO of CHG Healthcare Service. "It's our people who make CHG a great place to work. Their dedication to our core values and the work they do each day makes a meaningful difference in our communities and in the lives of the healthcare providers we serve — and ultimately the patients these providers help. That's what our culture is all about."
Earning the Award
Each year, hundreds of companies apply for this recognition, which requires an anonymous employee survey and an in-depth questionnaire about company programs and practices. Applications are evaluated based on a company's credibility, respect, fairness, pride, and camaraderie. "Culture starts with listening to your people and then making improvements based on their feedback," Beck says. "When you give employees a voice, they take ownership in the culture and make it even stronger." CHG is committed to its core value of
Putting People First
and ensures all company decisions are made with the best interests of the employees in mind. The result is an atmosphere of respect, caring, support, and fun. Employees feel
free to be themselves
and are passionate about the work they do.
Working at CHG Healthcare Services
The company offers its employees a variety of unique perks, including:
CHG employs more than 2,000 people in seven offices across the country, including Utah, Florida, North Carolina, Connecticut, Michigan, and Oklahoma. In 2015, CHG's healthcare staffing companies placed more than 12,000 medical providers across the country who served 21 million patients. Learn more about CHG Healthcare Services people-centric culture at
www.chgpulse.com
.