Nurse practitioner Sophia Khawly, ARNP, MSN, offers insights on how to ensure you're prepared to choose the right locum tenens NP assignment for you.
To make the locum tenens process run as smoothly as possible, it's important to ensure you're proactive. There are steps you can take even before you've found an assignment — from getting your paperwork and licenses in order to knowing the right questions to ask of facilities. From experience, I've found that following the guidelines below ensures I choose a locum tenens assignment that is the right fit for me.
Early preparation is key
Once a facility decides they need a locum tenens NP, they want the position filled as quickly as possible. However, there are steps that may slow the process down, but knowing what these are and proactively staying on top of things will put you a step ahead of the other candidates.
Credentialing for locum NPs can take anywhere from days to months to obtain, depending on the site. The credentialing process requires paperwork to be completed, peer references given, and requested privileges documented. Make sure you have all your paperwork completed and current prior to your job search.
Although some sites are willing to wait for the provider to be licensed in their given state, most want you to already be licensed in the state before they even consider you. This is why it is highly recommended for locum tenens clinicians to apply for multiple state licenses proactively. If you have several state licenses already approved and active, you're ready to go when job options become available in that given state. And if you hold multiple state licenses, this will increase your job options even more.
Getting your license for locums assignments
You have a couple options for obtaining your license for an assignment: you can apply for state licenses on your own and get reimbursed upon accepting an assignment, or you can have CompHealth assist and pay for your applications. For nurse practitioners, this will include obtaining both a registered nurse and advanced practice nursing license. Due to the Nurse Licensure Compact, you may be able to use your initial RN license to practice in multiple states. Some states also require obtaining a separate controlled substance prescribing license.
The licensure application process requires a background check, fingerprints, proof of national certification, and certain continuing education courses. Depending on the state, the application may be approved within a few weeks to several months. This is why it is ideal to already be licensed in a given state prior to considering a job there. Once your licenses are active and you are ready to practice there, you will need to register your DEA certification to that state.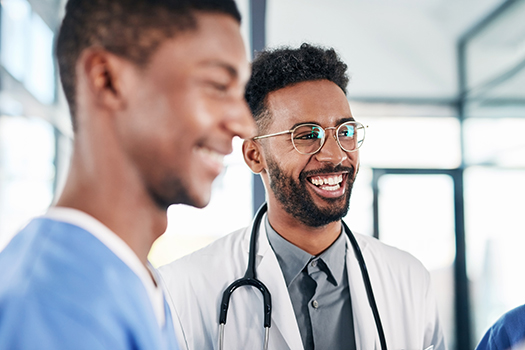 Establish a strong partnership with your recruiter
Your relationship with your recruiter is very important. Be sure to let your recruiter know what states you are interested in traveling to, when you are available to work and for how long, and the type of healthcare settings you wish to practice in. When these positions become available, your recruiter will contact you to see if you are interested. It is recommended to respond to your recruiter even when you are not interested or unavailable. Communication is important to keep this relationship alive.
Clinicians can select which jobs they'd like to pursue if the pay, location, schedule, and amount of patients seen per day match your preferences. The client will usually want a brief phone interview to make sure they and the provider are on the same page. They will also typically review your background and work expectations. Sometimes these are social calls, whereas other times the medical director may be asking you clinical questions.
Be prepared with questions for them
You should come prepared to ask the interviewer questions of your own. For example, you should ask if they have previously worked with locum tenens providers. If they have, this will show they are familiar with the process and role of a locums provider. In addition, you should ask about support staff, such as how many medical assistants or nurses will be assigned to you. You should also inquire about how many patients per day you are expected to see.
To make yourself more desirable to a facility, make sure you're comfortable with using electronic health records (EHR). Facilities prefer candidates who are proficient with EHRs, and they may ask you this during the interview or notice your familiarity with multiple EHRs on your resume. It also helps if you have previous locum tenens experience. A seasoned locum tenens provider will be selected over a new locum tenens provider because the site is looking for someone who is comfortable jumping in with little to no training.
If you want the best NP assignments to choose from, it's imperative to keep in close contact with your recruiter. If your recruiter knows you well, you'll be the first person they think of when a job opportunity that meets your needs becomes available.
Want help finding the perfect NP locum tenens assignment? Give us a call at 800.453.3030 or view today's locum tenens NP job opportunities.