CompHealth is a winner of Inavero's 
2016 Best of Staffing® Talent Award
and received recognition in both the client (for service given to employers) and talent categories (service given to job seekers). CompHealth has received the talent award for five consecutive years and the client award six times. Here's why clients choose to work with CompHealth:
Service Excellence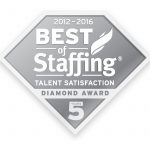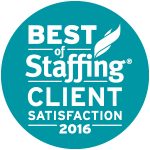 "Every day we have the opportunity to work with great providers and clients across the country," said Melissa Byington, president of the locum tenens division at CompHealth. "This award is a result of our efforts in really getting to know them and their needs so we can make the best possible job fit." The sixth annual Best of Staffing Award provides the only statistically valid and objective service quality benchmarks for the staffing industry. The award recognizes agencies delivering the highest satisfaction to the permanent and temporary employees for whom they find jobs. 
Fewer than two percent of all staffing agencies in North America receive this service excellence award. 
RELATED:
Why Culture is Important to Job Seekers
"Leaders of growing companies are more committed than ever to staying flexible in this stable yet volatile market, making staffing firms the most viable employment partnership," said Inavero's CEO Eric Gregg. "Finding the best staffing partner with a proven commitment to service excellence can be really tough.
BestofStaffing.com
is the place to find the winning agencies that place talent with the skills you need in your city or state. We are very proud of the 2016 award winners." Scores are based on the 
Net Promoter®
 methodology; CompHealth achieved satisfaction scores nearly double the industry average.