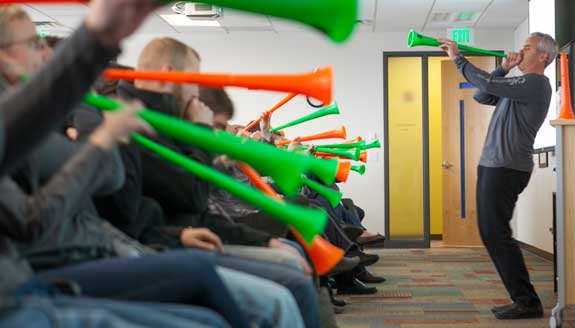 CompHealth's parent company ​CHG Healthcare Services is one of the top employers in America, according to FORTUNE magazine's
2014 list of the 100 Best Companies to Work For
. CHG ranks number 16, marking the company's fifth consecutive year on the list and third straight year in the top 20. CHG attributes its success to its core value of Putting People First. "Before we make any business decision, we ask ourselves if it puts our people first," explains CEO Michael Weinholtz. "If it doesn't, we go back to the drawing board." This approach has resulted in a positive work environment and a highly engaged workforce, as shown in the results of FORTUNE's employee survey. CHG scored in the 90th percentile of each category, including management credibility, job satisfaction, and work/life balance. "Each year, we work to make CHG a better place for our people," Weinholtz says. "We listen and make improvements, based on what means the most to them." Recent improvements include on-site health clinics, workout facilities, and paid time off for volunteer opportunities.
CHG employs more than 1,700 people across seven offices nationwide, which are located in Utah, Florida, North Carolina, Michigan, and Oklahoma.
In 2013, CHG's healthcare staffing companies placed more than 10,000 medical providers across the nation. These professionals provided care to approximately 17 million people. To be considered for the Best Companies honor, CHG underwent an extensive audit commissioned by FORTUNE in partnership with the Great Place to Work Institute, a research and consulting company. Scores were based on the results of the "trust index survey," which is sent to a random sample of employees, as well as information about pay, benefits, hiring practices, internal communication, diversity efforts, and recognition programs.