More than 1,200 physicians, NPs, and PAs responded to a recent
survey on the COVID-19 pandemic
and how it has affected their lives. The top findings show a significant increase in anxiety, a strong desire to resume work as normal, and how
provider lives have been affected
by changes in healthcare delivery.
More anxiety in their lives
The survey, which was conducted by
CHG Healthcare
, CompHealth's parent company, found that 72% of respondents reported more anxiety in their lives, including those who had no interaction with Covid-19 patients. Many providers (56%) were naturally apprehensive about becoming infected, but a greater number (68%) feared passing the virus along to a family member or loved one.
Overall anxiety level of physicians, PAs, and NPs compared to before the COVID-19 pandemic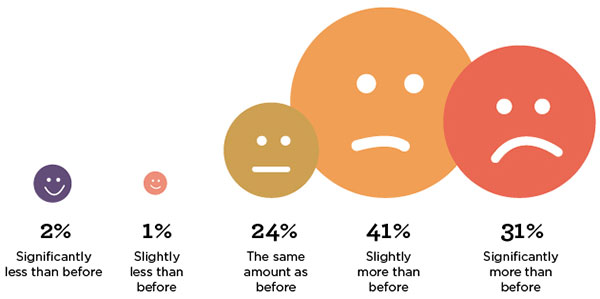 Other respondents expressed a different cause for anxiety.
"
My own anxiety level," reported one, "is up primarily because of how much people are letting fear run their lives, and how government is letting fear drive policy." Another respondent shared a similar sentiment: "The panic reaction by leadership at all levels has caused more damage than the COVID in my area. Texas is not NYC. Closing down healthcare facilities, schools, restaurants, gyms was unnecessary. These could have stayed open while exercising appropriate precautions."
A healthcare crisis
"Healthcare is facing a staffing crisis never seen before," says the CHG report. "Traditionally, healthcare has always had strong job security." Healthcare layoffs and furloughs, once rare, have been widespread due the diminished workload resulting from lower patient volumes and the temporary shutdown of elective care. Thirteen percent of respondents reported being recently laid-off (7%) or furloughed (6%). Of those still working, 74% said they were working fewer hours because of decreased patient volume (43%) or the elective care hiatus (26%). Some PAs and NPs reported being furloughed because the decreased patient load is being handled by physicians instead.
Current employment status of physicians, PAs, and NPs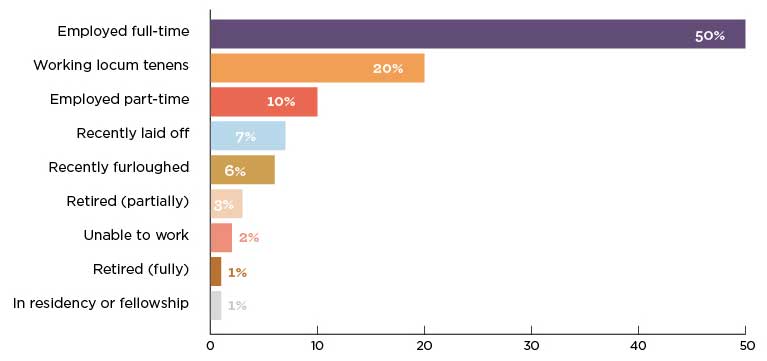 One respondent sums up the feelings of many about COVID-19 and provider anxiety: "It has been very hurtful that, for three weeks, we were needed so much, and after that, we were told to take PTO, and then get our hours cut. I am grateful to have a job, but I wish things were better."
Ready to return to work
The physicians, PAs, and NPs responding to the survey reported that they are ready to get back to work and  do what they were trained for. 63% said they wanted stay-at-home restrictions eased in the next month, while 73% want elective procedures back in the next month or even sooner.
When should elective care resume?

As for future plans, many healthcare providers said they intend to stay with their current employers (44%), while others are considering
locum tenens
(37%) or telehealth (30%) as career alternatives. Of those seeking locums work, almost half said they want to start assignments within the next month.
Healthcare heroes… it's what they do
While many respondents have embraced the term "healthcare heroes" — with survey comments like, "Doctors, nurses, all hospital workers continue to work despite risks. True heroes." — several respondents took issue with the label. One said, "We're not heroes. We are skilled, paid professionals who should only be working with proper PPE amounts regardless of other circumstances." Twenty-year family medicine physician,
Dr. Deborah Edberg,
expressed the reasoning behind this sentiment in a
recent KevinMD article
: "I have worked long hours in settings that are overwhelmed and understaffed. I have cared for people with highly contagious and untreatable illnesses. In fact, most of us in health care have experienced all of this over the lifetime of a career. It is what energizes and drains us, and it is why we choose the path we choose, embracing all that it entails." For additional survey findings, see the full report:
"Survey Report: High anxiety and desire to work driving physicians, PAs and NPs"
How has COVID-19 affected your life? Share your experiences in the comments below.