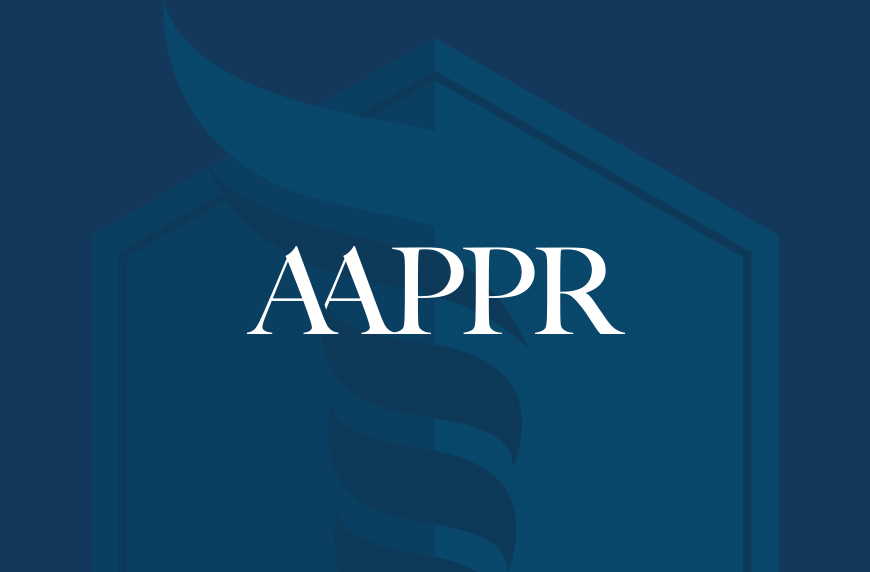 2019 AAPPR Annual Meeting Panel Discussion Transcript
Allen Kram, panel host and senior physician recruiter, Hackensack Meridian Health: I want to say good morning to everybody, and I hope everybody is awake after the basketball game or the party last night. Thank you for attending. I'm Allen Kram. I'll be moderating this session on credentialing. I just want to let everyone know the format. This formative session is based on a lot of market research and data we've collected from a lot of people, and I'll go through that later in the presentation. We're going to do a series of questions that have come up from members, from people in the credentialing side of our universe. It's a small percentage of us that have both credentialing and physician recruiting, but it's basically a compilation about the process of credentialing a locum as opposed to getting into the front-end of how to manage the vendors or how to ascertain a good seed from the bad on the front-end. This is more, once a CV is identified, how do you work through to get that person started as a potential employee on a locums basis. Again, I'm Allen Kram, I'm a senior physician recruiter with Hackensack Meridian Health in New Jersey, and I've been with ASPR and in the physician recruiting world for over 20 years. Again, my pain point coming into this was the locums process. We physician-recruit all day and hope that we pick the right candidates, but on the locum side we always try to find a better process, so that's how this whole thing came about. Let me start with the presentation but, again, hold the questions to the end. We'll have time for Q&A, but we found the top questions that were out there to basically be what the presentation is based on, so hopefully we hit a lot of the topics that you have, and afterwards there will be contact information if something doesn't get covered that you want to get more information about. Credentialing is always a hot topic. We all have our own requirements and processes for ensuring the physicians we recruit and hire have the right skills, certifications, and other necessary checks before we put them to work. When credentialing locum tenens providers, the process is made that much more complex because of the often short time period that we have to get them credentialed and working. Knowing credentialing locum tenens providers was a unique process, ASPR and CompHealth partnered last year to really look at locum tenens credentialing. We wanted to identify common pain points and look at ways to improve the locums credentialing process. We surveyed over 400 people responsible for recruiting, credentialing, onboarding, and the retention of locum tenens physicians. So, there's a very good swath of people, again, not only our members who are physician recruiters but credentialing professionals who are involved in the process. So, some of us went back to our organizations to get those people involved in this, and then we also held one-on-one and small focus groups to get more qualitative data. We had maybe six or eight focus groups where we brought people from all across the country together, and even from the Caribbean, so there was people from all over that were involved in credentialing. The key survey findings in our survey was that 62% of the issues were around incomplete paperwork. Out-of-date logs was 58%, out-of-date references was 54%, out- of-date CVs was 31%. Again, we all get CVs that we have to find out what the last three jobs they have, and so we found that that was a big problem that we were being presented with CVs that didn't have the true picture. Agencies who didn't understand – again, we did focus groups, we did some of this for quantification --  but we found that over 50% of the agencies didn't understand our organization's specific needs. We'll talk about that as part of the process of improvement is being on-board in the front-end with the locum firm so they understand what you're looking for and what you expect and what will be successfully recruited. 35% was unqualified providers being stuck into your mailbox, and then you have to decipher whether or not they were actually qualified. And many times that happened in the credentialing process, so again we'll talk about how that can be improved. Finally, the process being too long, and again that's perceptional. I think, in a lot of cases, the pain point is the process is too long, but that's not necessarily substantiable because sometimes the process has to be long, and we have professionals to talk about that. The positive side of this is we also found best practices and ways to address these issues and other things that will improve the credentialing process for you. Today we're going to address those issues and share both what we learned as well as best practices from our panelists. It's worth noting that to have a credentialing process that really works will need to have a great relationship between their internal team and the staffing agencies that you're going to be working with. An emergency need for providers is probably not the time to just go find somebody who happens to call you on the phone. How many times do you just get a phone call from somebody that say, "I've got a candidate." And you're like, "But you don't even know what I need." But they've got candidates without even knowing what you need, so there's a disconnect there. Having a relationship with a firm makes this process easier, so part of the takeaway is maybe, while you're downstairs in the exhibit hall, you talk to firms and you learn what they're doing and they learn what you're doing and then when you need somebody as opposed to it being an episodic thing. Also, we're recording this session, and we'll post the transcript on CompHealth's website. The link where it will be located will be shared at the end of the presentation. Let me get to introduce our panelists for this discussion today. First, it's Marcy Lechner, the director of provider recruitment and support services for Stormont-Vail HealthCare in Kansas. She's worked in provider recruitment as well as medical staff service roles for more than 23 years. Next, we have Tammy Pressnall, the director of CVO and Medical Staff Affairs at Presbyterian Healthcare Services in New Mexico. Tammy has worked in Medical Staff Affairs for more than 22 years. And finally, we have Dave Finch, a vice president in CompHealth's locum tenens division. Dave is responsible for business operations of the CompHealth locums division, which includes internal and external credentialing. He has worked at CompHealth for 13 years, spending the first 10 years in physician recruitment and now the last 3 in business operations. So, let's dive into some of these issues.
The first question is how can we better communicate with our internal partners to ensure everyone has a full understanding of what is needed to credential an on-board locum in an efficient manner?
Tammy: I'll take the question first. So, at Presbyterian Healthcare Services, we're a large organization, we have nine hospitals within the state, and we have a great need for locums on a regular basis particularly in the Albuquerque area. Internally we have a group of individuals, representatives from out internal CVO, our Medical Staff Affairs, Provider Enrollment, and HR recruitment that we meet on a regular basis with the locums agency that we are dealing with. So, those meetings is dependent upon the urgency of the needs, some we have every other week with our partners with the agencies, some on a weekly basis. The importance of internal communication or knowledge is to understand what are the requirements per the medical staff bylaws, per Joint Commission requirements in terms of the credentialing and privileging process. We do have written guidelines that we have produced that explain to our agency partners as far as what our requirements are for the credentialing process, what's expected in a completed application, and about how long that process will take. We also share our privilege forms with our counterparts internally as far as the departments and the HR recruiters so they understand when they're looking at a CV to ensure that anybody that they're looking at possibly, or hopefully, will meet our requirements. So, it's a lot of communication and sharing of the needs and the expectations. Marcy: We look at that as well. I'm the provider recruiter. We're a multi-disciplinary system, multi-specialty system, one hospital, but we have ambulatory centers across the region. All of our players are not in one building and one location, so when I was asked the question, how do we better communicate with our internal partners, I think first and foremost we have to identify who those partners are. Medical staff services is certainly first and foremost because the process can take some time so we've developed a great working relationship with that team. We have some tools that we use that we'll talk about a little later. We meet on a bi-weekly basis, sometimes more often if it's necessary, if we have an urgent need. But aside from that I've really stepped back to identify who are our other internal customers. What areas will that locums provider touch and who do we need to notify, so we really look at an on-boarding process for every single provider for different specialties. Who do we need to communicate with? And we've put together teams so that, when we identify a locums provider, we know a timeframe for when they will be in one of our locations. We can reach out to our EHR builders to know what they're going to build within the system. Anywhere from that to as simple as, is this a surgeon who's going to need scrubs out of the scrubEX machine. There's nothing worse than having a new locums surgeon arrive for a weekend coverage and doesn't have the availability of a pair of scrubs. So, you really have to think through who are your internal customers and how do you work with each of them. It can be something also as simple as the BPX operators. If you have someone new in your system, and they're on call, and the operator receives a call and has never heard of this physician, it just makes it a little embarrassing, number one, for us, but it takes more time for that operator to determine where this call needs to go, who this physician is, and there may be a patient there who is in need of some information. So, identify your customers and then put together a team and determine how you're going to communicate to each of them, whether that's a group email or bi-weekly meetings or what works best for your system. Allen:
The next question is speaking for locum agencies, what is the best way for you to partner with a healthcare facility? Who do you need to be communicating to to ensure a smooth credentialing process?
Dave: First of all, thank you so much for coming to this session. If you're in here, you're either passionate about credentialing or you don't like rock and roll because did you see the sign before? How rock and roll prepared me to be a great physician recruiter. I would have chosen that one first. I think it's unfair that they put us past that door, but thank you for your interest in this topic. As far as locums agencies go, communication is the biggest thing for us. When we talk to facilities and physicians, what we're trying to do is really get them all working together, and both Tammy and Marcy have talked about some best practices on what they're doing to try to make sure that the communication is going well, and that things are going to happen. When we talk about, again, these groups working together, we sometimes refer to our group that works with our physicians with the MSOs, our hospital privilege coordinators. They're coordinating all of this. Your physician recruiters are talking to our physician recruiters, introducing the doctor, and hopefully making that match, but the real match doesn't happen until all sides have talked to one another. Those hospital privilege coordinators are much like a conductor in a symphony. There are lots of different chairs in an orchestra, and we need that conductor to understand what are the needs of the doctors, what are the needs of you as physician recruiters, what are the needs of the MSO, or the needs of the billing department, and of course, what are the needs of the doctor themselves in relations to their travel and their practice. So, as we looked at those results, we said, what do we want to tackle first, and one of the things was incomplete application. You saw that as a top percentage of frustration from our physician recruiters, and that's the same frustration that we have as well. We're implementing different things that we'll answer later on what we're doing to try to get more complete applications, but we're also trying to look at asking the right questions upfront instead of waiting until we see that we haven't met your needs. Hopefully, during the communication process as we're talking to each one of you, we can find out what is a complete application. Tammy brought that up because every facility is different, and also what's acceptable as far as a CV goes, what's acceptable for a work history requirements, what's acceptable for procedure logs. Each group is a little bit different, but as long as the locums agency is asking those questions upfront, hopefully we're going to be able to provide the best candidate to you, at least at the time of that presentation. Allen:
Next question, how do we better determine with our locums rep what the chain of command will be and who is responsible for the oversight of the process?
We'll give that to Marcy.
Marcy: I'll take that. So, this was a trial by fire for me. We had not historically, had an opportunity to work with a lot of locums providers up until about nine months ago. My one experience was a local physician who we knew who we asked to come over. He did work through a company, but we had a relationship with him and, through the company, asked him to come over occasionally to cover a weekend. So, there was nothing emergent about it -- credentialing had the time they needed to appropriately finish their work, and it was smooth. Then I got handed an urgent need that we needed tomorrow, and more than one locums provider and lots of candidates coming at me, and a rep that I had through the company and a VP and a medical staff office, so lots of those internal and external players. About midway through the first candidate, I had to say, "Ok, I'm taking responsibility for this. I will facilitate this," because we were going in circles, and things weren't happening in a time frame that I thought they should. There was incomplete paperwork. I found that the rep that I spoke with through our agency was not the rep who spoke to the physician, who was also not the rep who did the credentialing, and there was a pot of credentialing people, and I think it takes a village sometimes, and I was working with the whole village. I had to really step back and say, "Ok, I'm going to facilitate this. Everything works through me," because at the end of the day, if that provider is not ready to go on the date they're supposed to be here, the question as to why is going to come to me. I really do have the conversation on the front-end. Don't be afraid to speak with your rep and ask for some very specific things, and as an example, when we determine on a candidate, and I notify our medical staff services folks, I let them know who the rep is and who the credentialing person is, and we all email each other on every single correspondence. That way I know if my medical staff folks aren't getting signed paperwork back, or something is incomplete or not being processed appropriately, or the license isn't done. I know that from the same time that they do and I can either intervene or talk to my rep. I put timeframes on, and it sounds hard-nosed, it's really not, but if we're not getting things back, I'm moving on, send me a different candidate that we can get done. Because again, at the end of the day, I know that's my responsibility. That seems to have worked well. It's not always easy, and sometimes there's lots of phone calls or texts or emails back and forth. The other thing I would say, is make sure upfront that there is an expectation that you can speak directly to the candidate, the provider that's coming in, after the interview process so that you can go directly to the source. If you're not getting what you need, and it's not happening through a rep, go directly to the physician and oftentimes that works a little bit better. Everybody is busy, I get that, and those physicians are truly moving from place to place, so it's not always convenient for them to speak with their rep or to read an email, but oftentimes I find that I can get them directly. Allen:
Thank you. What is the biggest frustration when working with locum agencies to credentialing a physician? We'll give this to Tammy to start.
Tammy: Where do I start? Like Marcy referred to, it takes a village, but it really is very frustrating when working with a locums agency that doesn't take the time to understand what the facilities process is or the systems process. But also, when given information as far as what constitutes a completed application, what has to be in place in terms of the primary source verification before the file can be acted on, is that you get this, "Mm-hmm. Yes, I understand. Gotcha. Sounds great. We'll abide by it," and then within the next candidate that you have, they're going, "Well can't you do the processing without this information?" It doesn't set the tone well. The completed application is very important because that is when our internal CVO at Presbyterian will initiate its primary source verification. So we need an application that has contact information and full addresses for peer references, email addresses. If we don't have that information, then we have to wait and get that either from the candidate or the locums company, or they'll Google it, so that takes some time. It's not that Medical Staff Affairs or the credentialing process that we intentionally be picky. We are required – at least in our system – we are accredited by the Joint Commission; the Medical Staff Standards say that we have to have a consistent evidence-based process that we apply to everybody consistently who's asking for the same privileges. Our failure to do that could result in lawsuits down the road, and there are accusations of negligent credentialing that I've done depositions, and I don't like doing depositions, so we really try to dot our I's and cross our T's. The CV, having a complete CV when we review those with the date, month and year, is really helpful to access quickly that person or that candidate, where they've been, where they've gone to school, their work history. We do have requirements in terms of how far back we look, in terms of the primary source verification. We go back five years, other institutions will go back ten, and some places will have an appreciated process for the credentialing process, which we do not. We follow our process thoroughly with any applicant that we have. Allen:
What best practices have you implemented in your organization that facilitates timely communication and collaboration between Recruitment and Medical Staff Affairs and the locum tenens agency? Why don't we start with Marcy?
Marcy: Again, I would say you have to find what works for your organization. I had to take time, as I mentioned before, to identify who the internal customers were, and we built a share point, online data entry portal from there. When we identify a candidate, we enter the data into that share point system, and that really provides all of the information necessary for all of the medical staff services and provider enrollment to reach out, make that initial contact. It has their date of birth, their start date, their contact information, and so that's a jumping in point, that's kind of our initial notification, and it goes to medical staff services and provider enrollment. That has been very helpful because it has a timeframe that's built in and, if things aren't happening within that timeframe, I get an email notification. Within that system, I can also enter my representative's name and contact information, our credentialing person at the agency's name and contact information, so it's right there, I can track it. If a license hasn't been completed, I get an email notification within a certain amount of time, so that's very helpful. But the next steps that I took personally was just getting to know a little bit about the departments that bringing a locums into our organization, what they do: for instance, billing and coding and provider enrollment. If this is a true locums in the sense of the meaning of 60-day or less coming to fill in for a provider who's out on a short-term leave, you may not even need to involve provider enrollment, so get to know a little bit about what they do and what their needs are. Billing and coding, if I say locums to them, they think that they're going to slap a modifier on it, and they're going to put a name of a physician that that doctor is here working for less than 60 days, and that's all they need. But, in our case, that locums provider truly is going to be there for off and on more than 60 days, so we do have to get provider enrollment involved, and we enroll them under our tax ID number and bill under their provider enrollment number. So, I think identifying on the front-end what their needs are, then having that communication is appreciated greatly by them. We're into this six to nine months now, and I just got a call last week from the hospital billing and coding. I'd spoken with our ambulatory billing and coding but not the hospital side. So, I'm still learning, we're still trying to put a perfect process in place. I think it's just what works for your organization, but communication is key. Get your clinic nurse manager or your department manager, whoever is out there kind of in the trenches with them, let them know too so that they can build their call schedules. There's just so many more people than recruitment and medical staff and provider enrollment that this can affect. I think my key takeaway is learn who those players are, and then build your communication that works best for you. Tammy: So we have a large employed group of providers and, of course, when we lose someone, we of course are looking for a locums. In our organization, we have what we call Directors of Provider Operations. What we've taken as a requirement is that, when there is a new – and we call them DPO's – when they're new, they have to go through an orientation which is inclusive of meeting with Medical Staff Affairs and the CVO, so that they understand the processes because they're the ones that typically put up the flag as far as I need a locums here in about three weeks because we're losing someone. So, it's important that they understand the process. That trickles down, of course, to our HR recruiter who is looking for qualified candidates. If that individual or if that recruiter has a question about a CV that they receive, they oftentimes will send it to me or one of my staff and say, "Well, I'm not quite sure if this individual would meet your requirements for privileging in this particular specialty. Can you take a look and see if this works?" That's very much appreciated so that we can get a heads up on terms of the candidate or we can say, "Absolutely not. Even though he meets the requirements, there's this issue." So  it's that internal communication and the process that really helps us be successful. And, of course, then understanding what the requirements are within the state that the provider is coming to as far as a medical license. In the state of New Mexico, we have a controlled substance registration that they have to obtain in addition to the DEA with a New Mexico address. Allen:
What have you done to streamline the credentialing process? Let's start with Dave on this.
Dave: I'll just give you a peek into CompHealth, into our company, and what we've been working on the last two years. When we talk about the credentialing process, we're talking about three main areas, which are our own internal credentialing since we're covering the malpractice, the external credentialing or the hospital privileges that we work with each of your companies on, and then our licensing group who help our physicians get licenses. A couple of years ago we, hearing these types of results and getting feedback both from our physicians and also probably many of you, we heard, "Please try to understand the state licensing boards better." And so we've done that, and we're capturing all that information in a centralized location now so that whenever a doctor begins a license with a specific state, we can go and look at the actual profile for that state. We can see when the last license was done. We can actually see how long it's taken us to get licenses depending on the doctor's qualifications, of course. So just by having those license profiles, those state profiles available not only for ourselves but for our recruiters, the people who are calling you and our doctors, we've seen an increase in cooperation with the state licensing boards. Why is that helpful? Well, because when we move to the external credentialing or when we start working with different facilities, one of the things that yourselves and your Medical Staff Offices want is a licensed physician and, if they're not licensed, how quickly can they be licensed. Over time we've been able to gain a lot more credibility by meeting the deadline or the expectations that the states have put on when they can get a license done. When we can deliver in that way, then a relationship with you goes better. In relation to working with the different facilities, we've done the same thing. We have a profile for each of our clients, each of our people that we work with, and any time there's a new doctor introduced, even in a new specialty, the hospital privilege coordinator will look at that profile and talk to the MSO to make sure that the process hasn't changed. And hopefully, your physician recruiters and our recruiters, our consultants, are talking about that beforehand, so they're getting any updates upfront. And then as far as our internal credentialing, what we've done is put together a new standard, and we've just recently introduced this year of committing to get credentialing completed in a quicker manner. Again, how does that help our external customers? Well, if they're credentialed with us, we can catch many of the red flags that could show up when they get to each of your MSOs. So, in those three areas, kind of these profiles have helped to speed up the process and make it easier to work with both for our physicians and our clients, and then again, it just puts us in a better position to communicate upfront so not every phone call is a brand-new experience like Marcy said she experienced her first time. Tammy: Well, as I've mentioned before, we do have a group of key individuals that meet on a regular basis to educate and to follow up on those files that are in process so that we know whether or not we're going to have some issues down the road when it comes time for the file to go to the Medical Staff Affairs office for the approval process piece of it. The written guidelines, as I said, as far as what the expectations are and communicating that with our locums agency partners. It even starts with our HR recruiter, who in HR, they develop some guidelines that they share with the agencies when they approach them about their needs so there's some expectations that are set up right up front. Automation of the credentialing database, the more you can automate your credentialing process, the faster that process is going to be, hopefully. Also, for communication, personally, we're involved with the changeover on a database from one to another to hopefully improve our automation and improve our turnaround time. But it also has what we call a portal so that, if you have a credentialing specialist in the locums agency that's filling out the application or assisting the physician, that individual has access to look into the portal to see what the status is. So, we're trying to reduce the number of phone calls and concerns because numerous phone calls about a provider and what the status is, it takes time away from that individual in the processing of the file. Allen:
How do you get the provider more engaged with the credentialing process? We'll start with Marcy.
Marcy: I kind of handle this head-on with my initial conversation with the physician. We interview by phone any candidate that we're presented. I really appreciate on the front side that I get a brief synopsis from my rep that has outlined any potential red flag. And we can identify with that physician and just kind of talk through those so that we can make an early determination on whether this is going to be a candidate that we think we can bring into the organization. But when I speak with them on the phone, I try to develop a good working relationship and just let them know from the beginning that, while I understand that they're a locums provider and they've probably worked in a lot of organizations and done this credentialing thing many times over, that every organization is different. Our bylaws, rules, and regs all read differently. What our organization does might be vastly different from what Tammy's does, and I just kind of put that out there and let them know, "I apologize on the front-end, you've probably got your packet of information together already that you think is very complete, but we're probably going to ask you for a piece of information you may not have and please bear with us." That seems to set the tone. I just try to build that good working relationship with them on the front-end. Tammy: Our experience with locums providers, most of the time it's a preferred process where the locums agency is the intermediary between the CVO and the physician. The physician can get quite confused as far as if there's multiple requests for the same information from one institution, so provider enrollment may need a copy of the diploma where they went to medical school but Medical Staff Affairs doesn't need it because that's not considered primary source verification. We've found it works best if we have someone within the agency that can be the go-between. Again, strong working relationship, understanding what the processes are, there are some physician locums providers who do want to be very much involved, and so I've had providers who have called me up personally and said, "I want to know what the process is. What's going on with my application?" So, we make sure that we honor that request and have a communication with that provider. Case logs are a big deal as far as getting that information from the provider. Sharing our privilege form with the locums agencies to identify what the expectations are for certain specialties has helped. I know that case logs are very difficult, and it's very frustrating to get those consistently from organizations, but I can tell you that, in most cases, a medical staff is going to want to know or have that information to ensure or to help accessing the individuals competency. More isn't always better, but it's important that we have a good idea of what that individual's activity has been. Dave: I'll just add that when we look at the different doctors who are going to be doing locums, our physician recruiters upfront have to determine is this someone who has a lot of experience doing locums or is this a brand-new physician, someone who's done it zero times or one time. If it's someone who hasn't done it at all, obviously we need to take a lot more time with them. We have to be able to tell the story. We have to simplify the process for them, which means laying out how the whole process is going to work and how they need to partner, and why it's so important. For an experienced locums, we can move through that situation a little bit easier and then just try to find out where are the gaps -- do you have updated case logs? You know how important it is to complete your application correctly the first time. For us again, to be honest, we're trying to hire the right people who are flexible and not just a one size fits all. We have physician recruiters, we have again these coordinators who coordinate all this who are flexible and adaptable to the different personalities that comes with the physicians. Allen:
What services could a locum tenens company provide to you that would add value to your credentialing and on-boarding process? I'll throw that to Tammy.
Tammy: Again, an accurate complete CV with your month and date is very important for us to assess. The locums agency has someone that helps or assists the provider in filling out the application or may even fill out the application on his or her behalf up to a certain point, to make sure that we have that accurate contact information to conduct our primary source verification. There are a number of questions, of course, on the application that the provider has to attest to, and if any of those responses are yes, they need to do a complete and thorough explanation of why they answered yes. It is very frustrating when you are processing the application, and you come across some information that they should have divulged on the application. That can create delays because then we have to go after that information. If you have, like I know CompHealth does, is that they will weed out what those red flags are, and if you're up front with what those red flags are, it can make things a lot easier. So, if you had a physician that has had substance abuse issues and is in a State Physician Health Program, make sure that we know that information. We're not going to say that we're not going to accept that individual, but we have to take another step to ensure that we have the information to confirm that he or she is in compliance with that program. So, upfront information is very helpful. Allen:
What do you feel is critical for locum agencies to understand in order to recruit and credential locum physicians in an efficient manner? I'll throw that to Marcy.
Marcy: I think understanding what your need is, not one size fits all. I'm sure you all get the same amount of phone calls that I do from representatives, and while I do try to keep those to a minimum, I know that you don't know about my opportunity when you just shoot me an email that says, "I have a candidate that can be there in two days, licensed and ready to go," if you don't know what my needs are. Again, it's key to communicate, have a really good working relationship with the reps that we do work with. We kind of do a Q&A sheet on the front side so that we can talk about what our needs are: are there any specific qualifications, what are our volumes, if it's a surgeon, what does the OR look like? -- so that they're well equipped to talk to their candidates as well about our opportunity. When I've mentioned before that the rep that I speak with isn't always the rep that speaks to the physician, I think there's some middle people, some different conversations going on. I actually had a physician come who said, "This is not at all the opportunity that was presented to me." It worked out, he's still coming, but I'd like to avoid those if I can, so I just think it's that open communication. Again, if I take the opportunity to speak directly with the physician, we can eliminate some of that. I don't ever want somebody to come and be disappointed that the opportunity was not presented accurately. I think that just begins the relationship off on a bad foot. I also speak with them about what happens at the end of the rotation, if there are incomplete charts, what are we going to put in place so that we can get those wrapped up, and just that sense of urgency. My urgency may not be their urgency, so communication, don't be afraid to have those conversations, get to know the rep that you're working with, let them know what your expectations are. I think if you get those out on the table on the front end, the process goes much smoother. Allen:
How do you keep inaccurate or incomplete paperwork from setting your process back? What have you done to keep this from happening in the first place? Throw it out to whoever wants to start.
Tammy: Our CVO, in their processing files, they have a regular tracking process so that they're reworking that file every five to seven days so that we make sure that we're getting that information in a timely manner. The fact that we don't accept incomplete applications, that we have a completed application from the get-go so that we can get started on it and move through it as quickly as possible. Dave: I just wanted to say that one of the things that we do is ask the physicians to return it to us first so we can look through it and make sure that everything that is required is filled out. And again, if we know and understand what the hospital or facilities are looking for and what a completed application means to them, we can prevent a lot of applications going to those facilities incomplete. Marcy: I think I would just reiterate that I try to stay right in the middle of what's happening and, if the time frames aren't being met, I pick up the phone. I think our medical staff office staff won't always take the opportunity to do that, the burden is on the professional, on the provider to complete that, but I will. I'm on the phone to my rep or the physician. Allen:
I think this is my favorite question. This is where it really gets fun and then we'll have a Q&A afterwards. What red flags do you look for when credentialing a provider and how can you identify them early enough so they don't impact your search? Again, we'll throw this out to everyone.
Tammy: Well, those red flags are, of course, very challenging. The first thing that we look at is how did the provider answer the questions on the application, 21 questions on the application, and we hone in on those yeses, and if the yeses are explained thoroughly or not. We oftentimes find that in the processing of a file, you can do a background check, which we do. You can look at the application, you can look at the responses, but when you start doing that primary source verification then, that's where the surprises can come, particularly from peer references, from work affiliations where they perhaps were employed or had a locums stint at that facility, and you come back with behavioral issues. Gaps in their work history of more than six months. I was just sharing with my colleagues here this morning, in behavioral health psychiatry, we had one individual that was coming through the locums agency, and she had been retired for three years. So, for us that was a real red flag as far as that gap in work history. What has she done to maintain currency? There was an expectation of the department chair who needed this person to establish a back-to-work plan that would have to be rather quick, but we knew this individual would be with us for quite some time. Licensing board actions, of course, those are always a concern. Like I said, the substance abuse program, that is a red flag, but we're more than happy to work with the individual. Malpractice history -- we have a requirement that if you've had three claims, suits or settlements in a five-year period, then that just guarantees that you're a track two or has a red flag that we have to then make sure that we have all the information. We don't routinely deny somebody because of a malpractice history, most people have that malpractice history, but we need to make sure that we understand and have the provider explain from his or her side what occurred on those cases. Marcy: I might just add, we do, as the recruiter, even for our locums candidates, and we do have a good working relationship with our reps, and I think we're provided a lot of information on the front side to help determine if we want to interview the candidate, but I always ask for a reference. There's nothing more frustrating than having an urgent need and trying to quickly identify a candidate through a process that isn't your normal process, and then having them come to your organization and not being a good fit because either a personality or temperament or what have you. So, we do ask for a reference and our rep has been very helpful in obtaining those as well. We want an outside reference form, at least one, two would be nice, places that they've worked before, and within that reference, we ask about relationships within the organization. So just little things that we found along the way. Like I said, this is fairly new for us, we're still not using as many locums as some of our peers do, but it's a learning experience, and it's got to work for your organization. Allen: I want to thank everybody. We'll open it up to questions, we've got about 10 minutes for questions. Again, keep in mind that most of this should be on the middle to end of the process, so about the locums credentialing process and how we can improve it. We have a credentialing expert here, we have one of the vendors of CompHealth here, so feel free. Does anybody have any questions? Female 1:
Whenever you were talking about the fact that they'll go to your track two after they've had so many malpractice cases, is that in your bylaws or rules and regs or where is that determined?
Tammy: It's in our bylaws, and then of course we have that in our written communication that we provide to the locums. Female 2:
I was just going to mention, I know, Marcy, you brought up that it's hard to know who's talking to the physician, and sometimes when you talk to the physician, and you say, "Oh, I know Bob," but they have not idea who Bob is because that's your person.
Actually I was surprised it didn't come up, but with CompHealth, as soon as you confirm a physician, you can ask for a who's who list, and I don't think [inaudible] just automatically gives it to you. But I came across that back in 2015 or 2016, and now [inaudible] and other companies do something similar, but I was loving the who's who list. So as soon as I confirm a physician and then [inaudible], I send them the who's who list so they know exactly who they can contact. That's really helped us streamline the process, and they don't have to say, "Oh, I'm reaching out to this person," or, "I'll have this person contact you." They know who to contact directly so that was helpful.
Marcy: Oh nice. Thank you. Dave: Thanks for the plug. Tammy: I just wanted to make a comment that I totally forgot is that as an agency you should ask for a copy of the medical staff bylaws so that you know in there what is the red flags or the track two criteria. What are the indications for the possibility of temporary privileges, so it's really important that you have that. Female 3:
Do you guys have any recommendations on how to get organizations to expedite that process because some places do expedited locums credentialing, and some, because of the whole JCAHO won't, and typically with locums, you need it sooner rather than later. So, to go through a three-month credentialing process because they kind of put them in line with everybody else isn't always advantageous with the organization, but yet I know they have to follow certain things. So, how do some organizations do expedited and emergency and some don't?
Tammy: We were just talking about this. Again, the bylaws should outline what has to be in place and what is defined as the ability to grant temporary privileges. The Joint Commission is very specific about when you can have temporary privileges: it's either for urgent patient care need or you have an application that is completely processed and is just waiting for the committees to approve. We also have, and it's allowed by Joint Commission, to have an expedited process or clean files, track ones, so that you don't have to necessarily wait for committee, but you have to get the approval through the board. It is absolutely a must that there's two members of the hospital board that will approve a request for credentials. There's a misconception out there that we have to take it through credentials, we have to take it through MEC, and then we go to the board. So, ultimately it can bypass, you can have representatives from credentials and MEC that can review it, recommend it, you can have two board members that can sign off on it. The challenge is in a large organization trying to get those people's attention so that you can get it done sooner rather than waiting for the committees to meet. The temporary privileges, we do not like to grant temporary privileges, it is only for urgent patient care need. Because somebody is on vacation in a month is not necessarily considered an urgent patient care need. It could be if you've only got one specialist, and he's going to be out for vacation, but we have to take those on a case by case basis, and there's also minimum criteria that has to be met in order to be considered. Now that minimum criteria can change or be different from facility to facility, it just depends upon their rules and their requirements. Emergency privileges is not in most cases an emergency for individuals who are already on staff and say they practice in a certain specialty, but they come across in an emergency, and they have to step in and take care of the patient. So, you just have to make sure that you're understanding what the process is. Female 4:
I agree with you 100%, you have to have all those processes in place. We ended up getting MedExec to approve a bylaw change for emergency privileges after we had a neurologist – one of two in our organizations – pass away unexpectedly so we had to get the other neurologist help. They were already looking to recruit two more to the practice because of volume, so one man can't do it all, two could not do it all.
So, that is the time in the history of Mansfield Hospital that they finally said, "Ok, we need to put a process in place," like you described, don't go to the committees, get a couple of board members, get a couple of MedExec, change the bylaws to reflect in an emergent situation we can do that because that truly was an emergent situation. I almost think it takes a real-life thing that happens before a health system or an organization realizes that we really do need a policy or a procedure in place to take care of that when that happens. So many don't have it that it's unfortunate that they wait until a physician passes away unexpectedly before, "Oh no, let's put something in place." Thank goodness they did, but I would hope that everybody else could learn from our mistakes and do it ahead of time.
Allen: Are there any other questions? I want to thank CompHealth for being an absolutely fantastic partner with this project. This was a collaboration of our strategic partner initiative at the AAPPR. It was a really fantastic collaboration with great resources that came from CompHealth to be able to do all of these focus groups, to do all the research. This is actually statistically relevant data that we have because of the process that we went through, and that's thanks to their infrastructure that was able to do that. And again, I want to thank our panel for all of the work that went into putting this together. Tammy, Marcy, and Dave, thank you so much for everything. If no one else has questions, that's the link. It may modify to AAPPR, but it would automatically swing to that. I believe this somehow will have a link to the presentation that is recorded so you'll be able to hear that, and then if anybody wants to get in contact with any of us, by all means, go through the website. Again, thank you and enjoy the rest of the day. RELATED:
Tips for credentialing locum tenens providers