During the holiday season, locum tenens and traveling healthcare professionals are in particularly high demand. So if you take an assignment during the holiday season, you'll most likely have to work at least one major holiday. However, you can still get into the holiday spirit and enjoy the season. Here are seven tips that can help you enjoy the holidays while working away from home.
1. Choose assignments closer to home
Jasmine
is a traveling physical therapist who loves to travel the country, but during the holidays, she wants to be home. She works with her recruiter to find assignments in her home state of Michigan during the holidays. That way, she's just a short drive from family and friends even if she has to work during the holidays. The great thing about traveling and working locum tenens is that you have the power to choose where you want to be and when.
2. Reschedule the celebration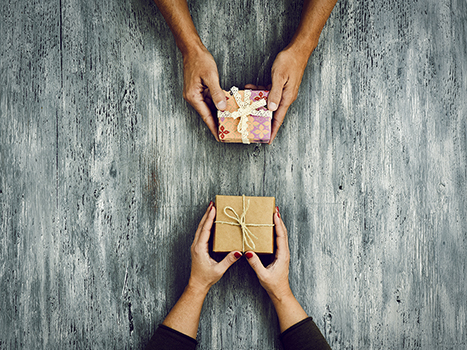 Most holidays are about being with family — the date itself doesn't matter nearly as much as being able to celebrate with loved ones. So, ask your family if they can celebrate at least part of the holidays when you don't have to work. Or have your family celebrate twice! No one has ever complained about having to enjoy two holiday dinners.
3. Celebrate with co-workers
You won't be the only one working on a holiday. Find out who else will be on your shift and celebrate with them. Bring a treat to enjoy in the break room, arrange a small gift exchange, or simply make sure to be extra kind to your coworkers. You can even set up a time for all of you to celebrate when you're off to extend the festivities. Even if it's just grabbing a quick hot cocoa at the end of your shift to relax and enjoy each other's company. Also, keep an eye out for fellow locums or travelers — even if they're not working the same time as you, chances are they're also missing family and friends during the holidays. Line up something fun to do with your proxy family.
4. Invite the family
Lots of people travel to see relatives during the holidays. Why not have your family join you where you're working? It'll be an exciting trip for them, and you'll have the comfort of home. For example,
Dr. Laura 
Bruse
had to work the weekend before Christmas. She picked up her daughter from college, who was on break for the holidays, and they spent the weekend together in South Carolina. Even if you have to work on a holiday, you'll have family to celebrate with before and after your shift.
5. Take your traditions with you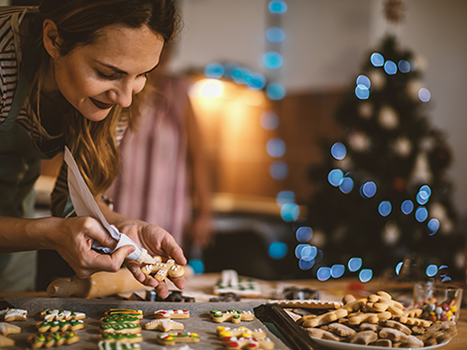 Holiday traditions help define who we are. So when you travel, take your traditions along. If you enjoy making a special dish for the holidays, bring it for your coworkers. Or, if you love holiday markets, find one nearby. Be sure to share these traditions with your coworkers and fellow travelers and encourage them to share their own traditions — you might find another great tradition in the process!
6. Bring your holiday cheer to work
Your patients are also going to be bummed that they're in a hospital or care facility on a holiday. Make both of your days better by cheering up all of your patients. Decorate your station, wear festive accessories, and celebrate with the people around you. The better your attitude, the more you'll be able to enjoy the holidays while working. This can be hard, but sometimes it's good to remind yourself that just because you're on your own doesn't mean you're alone. For example,
Dr. Amy 
Wecker
was working a locum tenens assignment in South Dakota during Christmas, and she was far away from all of her family and friends, but she ended up having a great time. She realized it was a great time to practice being independent and confident on her own.
7. Avoid social media
One of the great benefits of being a traveler or locums is that your Instagram lets you show off all the amazing places your work takes you. But if you're stuck working, it's best to stay off social media. Nothing ruins holiday cheer like envy, and you understandably may feel jealous if you see all your friends and family relaxing while you're working. Delete or turn off your social media apps, focus on your work, and know that you'll have your own holiday celebrations when the timing works for you. What do you do to enjoy the holidays while working an assignment? Share your tips in the comments below.