Katy F. was like many professionals new to a career — when she was fresh out of physical therapy training, she didn't have a clear idea of what type of practice she wanted to work in.
"I loved the majority of the settings where I had clinical rotations," she says, but she wasn't quite ready to settle down and choose just one. That's why she decided to work as a travel PT for a while.
"With travel physical therapy," says Katy, "I was able to continue trying different settings and gain experience as a new graduate. I loved that I could travel, get to know new people, and get to experience what it is like to live in another part of the U.S. while also figuring out what I wanted for my career."
Discovering a new passion
It was through travel PT jobs that she found her passion. "I realized the area I really want to practice in was pediatrics!"
Her favorite assignment placed her in Arizona as a school-based physical therapist, a job she initially declined, not thinking it would be a good fit. But mulling it over, she decided to hear out her CompHealth rep.
"And I am so glad that I made that choice. This contract has been incredibly rewarding and helped to solidify my decision to work in pediatrics." Elaborating, she says, "When I first started, I had to learn a lot about the differences of working in a school setting versus an outpatient pediatric setting. I had to shift my focus from a purely medical perspective to a focus on the function and access to the school environment, and learn the laws for school-based services that I was not aware even existed. It has really reinforced the importance of looking at the patient as a whole instead of focusing only on the medical aspects."
Each of her assignments, in fact, has provided enriching experiences. In South Dakota, she enjoyed both skilled nursing facility work and outpatient client work. In Minnesota, she learned a lot about advocating for patients who were unable to speak up for themselves. In Nebraska, she shared a caseload with a physical therapist who taught her modalities and therapeutic techniques different from those she was familiar with.
A love of adventure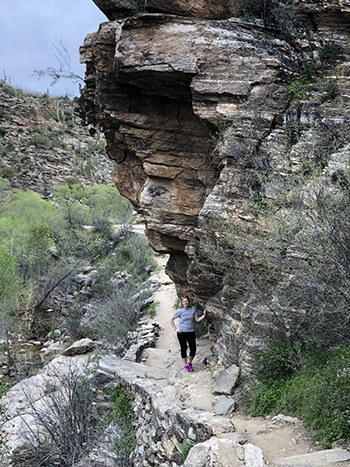 She loved the assignment in Arizona for another reason, too. "Living in Arizona has been such an adventure, and I feel like there is always something new and interesting to see or do," she says. "I grew up in Minnesota, so I particularly enjoy getting outside during the winter. So many beautiful sights, amazing hiking trails, and a mix of people from all over the United States here makes it such a great place to be."
When not at work, Katy can be found checking out new hiking trails, restaurants, and breweries or just playing with her adorable, high energy puppy. For Katy, finding people to do things with is a cinch. "I typically connect with people at work and then will meet other people through them. I've also met people through doing stuff with my dog, like puppy training, dog parks, etc."
Finding a recruiter she connects with
Katy has worked with several travel staffing agencies, but her CompHealth recruiter has been her favorite to work with.
"When I was looking at potential contracts, my representative, Katie Oakes, was very attentive to what I wanted as a traveler and didn't try to push me towards contracts that didn't feel right for me, which I've had happen in the past with other travel companies," Katy says. "I really feel like she has my best interests in mind and is so willing to help with anything that comes up. Everyone at CompHealth has been great to work with and willing to answer (or find someone who is able to answer) any question I've had."
Her advice for those considering working travel PT jobs is to "find a recruiter who you connect with, who you feel has your best interests in mind, and who will be honest with you when you're looking for new contracts. It can make a world of difference when you're trying to make a decision about a contract, and you'll have someone to support you if any issues arise."
Explore your options as a travel physical therapist! Give us a call at 800.453.3030 or view today's travel PT jobs.