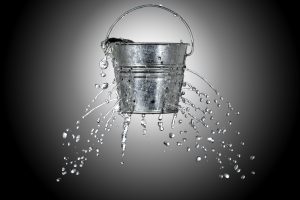 A lot of hard work goes into hiring a physician. There are hours of calling, sourcing, verifying references, in-person interviews and site visits, credentialing, contract negotiation, and finally, onboarding and orientation. A call from the physician after all of this to say that he has decided to take another position is the last thing a facility wants to receive. When it happens once, it's frustrating. When it happens regularly, it becomes a real hindrance to ongoing patient care and your bottom line. Here are four tips that can help you plug the leaky bucket:
1. Ask Open-Ended Questions during the Interview
It starts with the interview. There's a real difference between simply asking good questions and asking good questions in a way that allows a candidate to speak freely. For example:
Asking "Are there any stumbling blocks that stand in the way of you beginning work Aug. 1?" allows a candidate to answer simply "No" (which often happens if a candidate wants to avoid being eliminated from consideration).
However, asking "What plans or situations do you have that might make it hard for you to begin work Aug. 1?" gives the candidate an opening to discuss potential problems.
Any number of stumbling blocks could stand in the way of a particular start date — family, credentialing, current position. Open-ended questions can bring potential problems to light. In the long run, it's more productive to catch and address these early in the process.
2. Set Clear Expectations throughout the Recruiting Process
If clear expectations are not set, there will inevitably be a misunderstanding down the road. Once a physician has signed, expectations that have been clearly set can serve as a checklist for what she should expect in the coming weeks. These expectations can include setting hard deadlines, e.g., "Once you receive the credentialing packet, we expect you to return it within 72 hours."
3. Keep in Regular Contact with the Physician 
Regular, personal communication goes a long way toward eliminating leaky bucket syndrome. The worst kind of communication is no communication. If weeks go by without meaningful conversations between a recruiter and a candidate, there will likely be a failure to hire. No communication leads to uncertainty and doubt, and a recruiter from another facility may make their own inroads with the candidate.
4. Consider the Needs of the Physician's Family
Taking a new job is a big step and usually involves more than the physician. If the physician has a family, a good recruiter considers the family members' needs and careers as well and offers to help them make connections. Information about the community should be provided that addresses family members' interests. Remember, the physician's family has to want the job as much as the physician does. Setting clear expectations for the process, communicating regularly, understanding the physician well enough to foresee future pitfalls, and making sure the family is part of the equation help to avoid the phone call or email that sends the recruiting efforts back to square one.