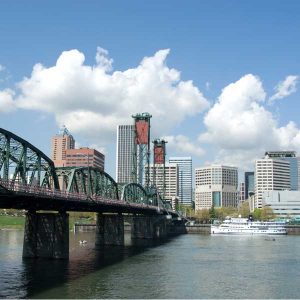 It inspired the hit show
Portlandia
, is home to the deepest lake in the U.S., and even offers visitors a chance to sleep in a treehouse for the night. Whether you're seeking outdoor thrills or great food and entertainment, Oregon has something for you. Here are a few reasons to take a family medicine job in Oregon.
Climb Ev'ry Mountain
It may not be home to the Rockies, but Oregon has many majestic peaks in the Cascade mountain range — several of them taller than 10,000 feet. If you're working near Portland, Mt. Hood and Mt. Jefferson are just an hour away. If you're in central Oregon, make sure to check out Mt. Bachelor and the Three Sisters. In the Crater Lake area in southern Oregon, you can climb Mt. Bailey or Mt. Thielsen. Visit
Trails.com
for even more options.
Explore Maritime History
Oregon has a rich maritime history, which began when fur trapper John Jacob Astor settled Fort Astoria in 1811 as a port at the mouth of the Columbia River. You can visit the
Columbia River Maritime Museum
in Astoria to tour the
Lightship Columbia
, see what it's like to pilot a tugboat and check out thousands of photos from Oregon's history on the Pacific Ocean. Additionally, the
Oregon Maritime Museum
in Portland houses the last operating sternwheel steam tug in the United States as well as hundreds of other artifacts. If you prefer to explore on your own, check out Oregon's
11 lighthouses
, stretching more than 300 miles from the top of the coast at Cannon Beach to Brookings, near the California border.
"Keep Portland Weird"
This slogan, also known as the unofficial motto of Portland, promotes individuality and expressionism within the city. As a result, there are a variety of unique places to explore. Don't miss the
International Rose Test Garden
with more than 550 varieties of roses, the
Portland Japanese Garden
and
Forest Park
for a relaxing walk. Love to read? You'll be in heaven in
Powell's City of Books
, a giant store that takes up an entire city block. And make sure to try a Dirty Snowball at
Voodoo Doughnut
and the famous turkey dinner at
Huber's
.
Hit the Water
Hells Canyon
, on the border of Idaho and Oregon, boasts North America's deepest river gorge and some of the best whitewater rafting and fishing in the Pacific Northwest. Oregon also houses
Crater Lake
, the deepest lake in the United States and the state's only national park. The lake, which formed when Mount Mazama erupted 7,700 years ago, is known for its striking, deep blue water.
Finding a Job
Want to make the Beaver State your next locum tenens destination? Check out our open
family medicine jobs in Oregon
.