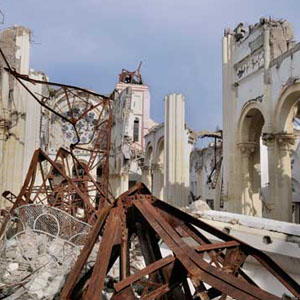 Nearly four years since the devastating earthquake, Haiti is still in need of medical assistance. In February 2014, the
American Academy of Family Physicians Foundation
will deliver care and provide medical resources through its
2014 Family Medicine Cares International Delegation to Haiti
. CompHealth is pleased to participate by supporting a scholarship to allow one family medicine resident to attend the medical mission. The scholarship covers expenses for travel, housing, and food during the mission. The scholarship recipient will also present about his or her experiences during the 2014 AAFP National Conference for Family Medicine Residents and Medical Students. Applications will be accepted through November 1, 2013. To be considered, applicants must be a resident member of the AAFP.
The scholarship application is available here
. "There is a staggering need for medical care in Haiti," says Dr. Mary Jo Welker, president of the AAFP Foundation. "We are grateful to each of our volunteers for serving and to CompHealth for helping a family medicine resident join us this year. This delegation's work will have a huge impact on the people of Haiti." This one-week volunteer project will be held February 15-22, 2014. Both medical and non-medical individuals are invited to attend. The following services will be performed:
Patient care -- Licensed physicians and residents (under physician supervision) will attend to patients at community clinics, working closely with Haitian physicians.
Medical education -- A team of physicians will provide continuing education for family and general practice physicians serving in the country.
Service -- Non-medical delegation members will participate in projects to improve school and clinic facilities and deliver essential supplies to children in need.
About the AAFP Foundation
The AAFP Foundation serves as the philanthropic arm of the American Academy of Family Physicians (AAFP) and advances the values of family medicine by promoting humanitarian, educational, and scientific initiatives that improve the health of all people. All of the foundation's efforts are made possible through the donations of family physicians, corporations, and others who provide voluntary financial support.