The Black Lives Matter movement has increased the public's awareness of systemic racism and motivated many individuals and organizations to take a closer look at themselves, their company policies, and how they can become allies in the fight against racism. If you want to eliminate bias in your practice and increase diversity in the organizations you're a part of, these six ideas can help.
1. Examine your environment
For any change to occur, start with what you know best — your own practice setting. Are there policies in place that are contributing to racism or bias in ways you may not have recognized? Conversely, what is your practice or facility doing well, and what could you do more to fight racism in healthcare?
Danielle Jones, director of diversity and health equity at American Academy of Family Physicians (AAFP), recommends that you start by looking at the policies, procedures, and culture your practice or healthcare facility has in place. Think about what actions you can take to be a better ally to your black colleagues and patients.
Even if you're not in a leadership role, your experiences can still be valuable, according to Jones. "Definitely use your voice, because you have to be the one to elevate the issues you're seeing. You're seeing things that are on the ground level. How do you elevate that to the appropriate level of attention that you actually get some action that's sustainable?"
2. Honestly assess yourself
While examining your work environment, don't neglect to look at your own personal biases too. Taking an assessment to determine if you're guilty of implicit bias can help you eliminate your reliance on those biases.
Jones recommends the Project Implicit assessments to determine overall bias, and she says the AAFP has developed training materials and assessments that are more specific to healthcare providers. "They allow providers to assess either how they might be biased in terms of certain types of communities or in the conversations they might be having with patients," she says.
"Raising some self-awareness is the first step in opening your eyes. You're not immune to it just because you're a physician," Jones says. Once you learn more about your own biases, you can work to address them.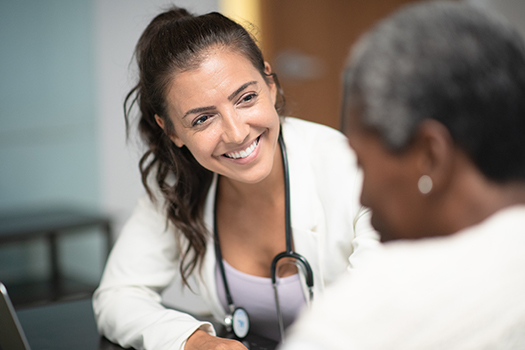 3. Seek out continuing education
Once you've started examining your own biases, continuing education resources can help you learn how implicit bias is affecting your patient population.
"The bias in the healthcare context is just a shortcut we use to be able to make quick determinations, because the time you get with patients is so limited," says Jones. "Sometimes those biases can help you quickly diagnose and provide treatment recommendations for a patient."
However, many of those shortcuts are based on poor information, stereotypes, and biased research, says Jones. "These biases are often created by the way healthcare professionals are trained and by the systems that then reinforce those biases. How can we change the way our healthcare systems are operating to reduce our need to rely on implicit bias in our clinical decision making?"
Jones recommends that physicians seek out continuing education or implicit bias training to help them understand how implicit bias, systemic racism, and race-based medicine is harming minority patient populations. This can also help you implement changes immediately in how you evaluate patients, use screening tools, and engage with external partners, she says.
4. Bring in the community
Sometimes you need to go outside of yourself to identify issues. Talking to members of the community can help you uncover deficiencies and implement solutions to fight bias and racism.
Conversations with patients can be particularly helpful in identifying blind spots, says Jones. "They're the ones who are actually impacted. Allow them to have some input and share their personal experiences on how it's had an effect on them, whether it's accessing care or their treatment."
She also recommends bringing in community members in early in the process so they can help develop solutions to problems you have identified. "We have a tendency to want to develop solutions and then present them to the community members. It should be the reverse, we need to bring in the community members to help develop what those solutions will be," she says. "Many of the folks have already been doing this work in their community for years. They're looking for those clinician allies to come on board and be some additional support for them because our healthcare professionals tend to have a bit more power and privilege in operating in these systems."
5. Hold organizations accountable
In addition to holding yourself and your own practice accountable, examine the organizations you belong to and push them to enact anti-racist policies of their own.
Aisha DeBerry, Atlanta Group Director of Physician and Advanced Provider Recruitment for Bon Secours Mercy Health, is also a board member of Association of Advancing Physician and Provider Recruitment (AAPPR). "Last year, I addressed the board about the lack of diversity within our leadership and membership," she says. After agreeing it was a problem, the board took active steps to recruit a more diverse board. "Today our board is more diverse than it's ever been," DeBerry says.
Jones agrees that accountability is crucial. "A lot of health systems or medical education institutions already have these mission statements in terms of how they see their role in operating around topics of social health or health inequities. So it's holding them accountable to those public statements, especially those opposing racism," she says.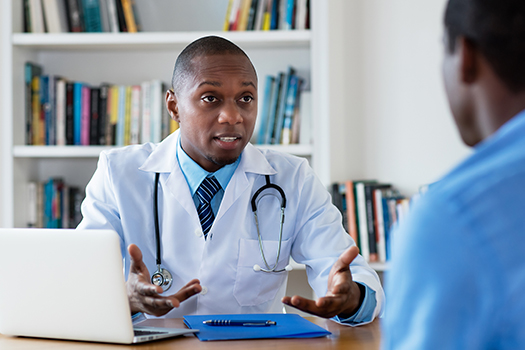 6. Sponsor new leaders
Organizations often focus on mentoring up-and-coming professionals, but sponsorship takes it one step further. "Sponsorship is where you're actually opening the door, holding it open, and allowing those individuals to come into the places where they might not normally have a voice," says Jones.
Jones says organizations should make an effort to bring in diverse voices and allow them to be involved in decision-making processes.
"You can do that at any level, it doesn't have to be at the C-suite," she continues. "You could be the supervisor in your clinic and allow a junior-level employee to have a seat at the table when you're making decisions around clinical operations. But it has to be something that you embrace at all levels of the organization and figure out, how am I being the gatekeeper here, and what can I do to allow someone else to walk through the door?"
For additional learning, check out these recommended resources for conversations on race for healthcare leaders.
What are you and your practice doing to eliminate bias and fight against racism? Share in the comments below.