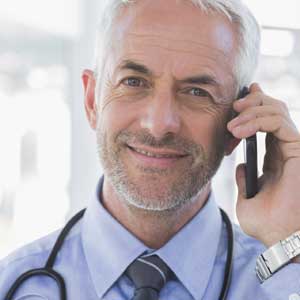 As one of the nation's largest physician staffing companies, CompHealth has 35 years of experience matching healthcare professionals to hospitals, clinics, and practices across the country. One of the first questions we get from providers looking to discuss a new position is, "What do you need from me?" Almost every healthcare provider we speak to wants to find a new position quickly and with as little stress as possible. One of the best ways to ensure success is to be sure that first conversation with your recruiter is an effective one. When you call CompHealth or send your information to us via our website, you will speak to a CompHealth recruiter within a few hours. Our recruiters are divided into teams by specialty, so you'll be speaking to someone who understands the open jobs and market in your specialty.
What You Want and What You Have to Offer
The first conversation with your recruiter will focus on two main points: What you want and what you have to offer. Your recruiter will ask questions about what you're looking for in a potential new position including job setting, schedule, location, and pay expectations. These questions are critical to help your recruiter sort through thousands of jobs and present you with only the best matches. In addition to questions about your potential new position, your recruiter will ask questions to better understand you as an individual. At CompHealth, we understand that you are more than a doctor, nurse or therapist; you have hobbies, responsibilities and aspirations for the future. The better your recruiter understands you, the better the match they will be able to find for you. Your CompHealth recruiter will also ask you about your abilities, recognition, and characteristics that set you apart from other providers in your field. When applying for new positions, it is important to remember that you'll be competing for jobs against candidates with similar education, training, and experience. Your recruiter will work with you to find ways to make you stand out from the rest.
Opportunities to Consider
Your recruiter may also ask you about settings and locations you may not have ever thought about. In my experience, very few people end up in positions exactly like what they had in mind when starting their job search. My current career path has taken me to Salt Lake City, Utah, a location I never would have considered if someone had only focused on the places I thought I wanted to be. However, an excellent company, family-friendly location, and a cultural fit were more important to me in the end than a specific state. Your CompHealth recruiter will work with you to understand your wants and needs and present opportunities that match your expectations — as well as some that may take you by surprise. The better your recruiter understands you and your situation, the more effective these matches will be.
Sharing Your CV
At the end of your conversation, your recruiter will ask you for a copy of your Curriculum Vitae or resume for their records. The CV is necessary to verify contact, education, and other details. In addition, we include a copy of your CV or resume in the information we send to a healthcare facility after receiving your permission to present you for consideration. CompHealth recruiters will never send your information to a hospital, clinic, or practice without your permission. SEE ALSO:
8 Tips for Adding References to Your Resume
You can see why the first call with your CompHealth recruiter is so critical for a successful job search. The quality of that conversation sets the stage for the rest of the process and helps us find the best job for you out of the hundreds of open positions we have across the country. So call a CompHealth recruiter (800-453-3030), find a comfortable seat in a quiet location, and let us get to work finding you the next step in your career!