Last week, CompHealth attended the American Academy of Physician Assistants (AAPA) annual conference in Washington, D.C. I asked Amanda Franson from our marketing team to share her first-hand account of the time spent with physician assistants and our recruiting staff at the show.
"AAPA Impact 2013 in Washington, D.C., was an incredible learning opportunity for me. Not knowing much about PAs before going, my mind was broadened exponentially over the course of the two days of this conference. PAs are a very passionate group of individuals with numerous amounts of specialties. They can change those specialties at any time, and the more work experience they have in any two specialties makes them that much more in demand. Most of the PAs I talked with were in family medicine with an urgent care background.
PAs care about the advancement of their profession and understand that while they have to work under the supervision of a physician, they would also like to have some autonomy in their diagnosis and treatment of patients. They have to sign long-term contracts with the physicians they work under, and a lot that I spoke to felt stuck in those contracts. Learning about the option of locum tenens or travel assignments was enlightening to most of them.
[caption id="attachment_2279" align="alignright" width="300"]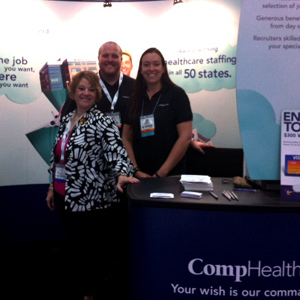 Amanda (at right) with Spencer Ellis, CompHealth recruiter, and Lisa Shock, PA-C and consultant.[/caption]
I spoke to several PAs who weren't sure what locums tenens was. Most had never heard of us before and wanted to know more. When I informed them of the benefits that CompHealth offers its travelers, such as paid malpractice insurance, medical and dental insurance, and 401K options -- all on the first day of work -- the immediate response was, 'You do? Well, then I can do that!'
One PA I spoke with was concerned about leaving her dogs while on an assignment. When I told her we have several providers who bring along their pets, and we offer pet insurance, she was much more interested in what I had to say.
I also met a ton of new-graduate PAs and PA students who had never heard of CompHealth before. I told them they needed to get about six months of experience in one specialty and then they could start working locum tenens with us.
When I told them locum tenens assignments allow them to try out a bunch of different settings before they sign a long-term contract, that seemed to really pique their interest. Most seemed to know exactly what they wanted to specialize in, but didn't know what type of setting they wanted to work in.
Overall, the AAPA show was a huge success for CompHealth, the PAs who attended and me."