In a recent Physicians Practice article, "
Healthy food is a prescription for better health
," CompHealth locums family practitioner
Dr. Colin Zhu
addresses the disturbing fact that "unhealthy diets pose a greater risk to morbidity and mortality than does unsafe sex and alcohol, drug, and tobacco use combined." There're more ways than one to treat illness, and eating healthy foods is a great option in many cases. He points to what every mother who feeds her sick child chicken soup instinctively knows: "Food is medicine," he writes. "We need to start viewing food as a way to treat disease. After all, the majority of the top killers of Americans are lifestyle related."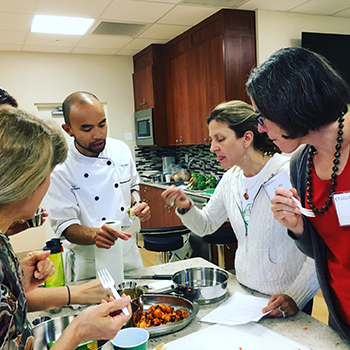 With only 27 percent of medical schools actually requiring a nutrition course and his own nutritional education in medical school focused solely on biochemistry, he went on to pursue a certification in health coaching and a diploma in health-supportive and plant-based culinary arts. "Now, when I talk to my patients about diet and exercise, I can break down the importance of meal prepping, grocery shopping, and concepts of nutritional density versus caloric density of foods." He says some patients roll their eyes when he encourages them to change their eating habits. "Many of them," he notes, "incorrectly assume that eating more plants means sacrificing flavor." But they "salivate when I describe how to create an Indian eggplant curry or a spicy vegan gumbo, proving that healthier foods can also be tasty." Change is more likely to happen, he points out, when you make the connection to patients' personal goals, like lengthening their lives so "they will see their children get married or grandchildren graduate college." Changing to a more plant-based lifestyle has an added benefit, says Dr. Zhu: it means bettering our planet's health as well. To learn more about Dr. Zhu's food approach to patient care and why treating lifestyle is the "best possible medicine," read the
full Physicians Practice article here
.