Imagine being new to a company when your job is to direct the building of that company's new headquarters — a headquarters that needs to emulate and enhance the company's unique culture. Then, imagine that a key building block of that culture is "Putting People First," which means taking seriously a collaborative decision-making process involving not just dozens of senior-level executives, but also the thousands of employees who will work, grow, and thrive in the new environment. This is the situation Bobby Stevens, the new director of real estate and project management, found herself in at
CHG Healthcare
. What did she do with so much on the line? She took advantage of the company's formal mentoring program and prioritized finding the right mentor. She was matched with CHG's
chief digital officer Leslie Snavely
. Three years later, mentor and mentee are still meeting. Here they share recommendations for establishing and growing a healthy mentoring relationship and insights into how that relationship strengthens the overall organization.
Find the right fit
No matter how senior a person is, if they don't share your worldview, they're probably not your best fit. Bobby's first recommendation is to ask yourself: "Does this person live the whole life you'd be looking to live? If you're career-driven, and that's really all you want to do, try to find somebody like that. If you're looking for balance in your life, find someone who seems to be able to manage a family and be a working mom, someone who can help you learn those whole life skills." For many new employees, finding this fit is difficult because they haven't yet gotten to know how different senior-level executives approach life. A formal mentoring programs gives them a huge advantage because mentors are also in the mindset to find mentees they want to work with. Bobby had defined what she was looking for in a mentor, and when the matching committee met, Leslie recognized a kindred spirit. Leslie reflects: "I heard our head of talent management talking about the kind of match you [Bobby] were looking for. I didn't know you very well at the time but I remember hearing what you said and going, 'This reminds me of me.' I remembered having an incredibly amazing mentor who helped me with some of the very things you were struggling with and I felt that helping you would be the right thing to do."
Meet often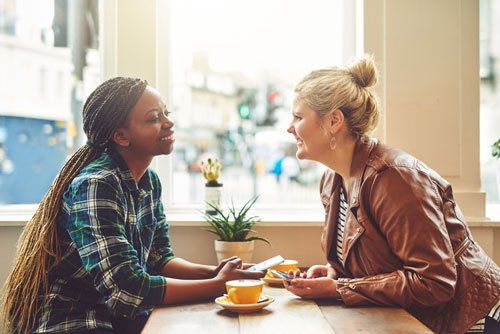 "Part of finding the right match is that you want it to be fun and effective," Leslie recommends. "You'll be meeting almost weekly, so you want it to enjoyable for you, helpful for the person you're working with, and impactful for the organization and your fellow coworkers." Leslie adds: "The ability to meet frequently enough takes a time commitment on both sides, from the mentee and the mentor. I think a kind of contract up front about how you're going to operate is critical to the partnership." Those weekly meetings were often held over coffee offsite. This gave Bobby the freedom to speak freely. "There was nobody from work around," Bobby explains. "So I could say, 'I'm having trouble with this person,' or, 'You saw the conflict we had in the meeting. Can you help guide me through it?' And after a difficult meeting when I was sinking my feet into the sand, Leslie advised, 'You can disagree. You can hold your ground, and you can do it in a respectful manner, but it's going to take practice to stay open while you're doing it."
"The ability to meet frequently enough takes a time commitment on both sides, from the mentee and the mentor."
Build trust first
The practice of staying open and respectful while holding one's ground is probably one of the most difficult practices directors and young executives need to learn. And before you can hear (and take in) words like that from a mentor, you need to trust them. So Leslie recommends that a formal mentoring program starts with trust. Bobby didn't really know what to expect from a mentoring relationship, never having had one before: "I pushed. I thought I was going to come in with questions and get as much information from you as possible and then go away with it … but in that first meeting Leslie was like, 'No, I really want to get to know you.' I realized this is going to be a relationship, not just a business transaction." Trust meant that Leslie was able to help Bobby through more than just work projects. She also helped her navigate corporate waters when she decided to have a baby and grow in other ways as a person. Bobby never thought she'd ask her mentor, "How do I tell my boss that I'm pregnant?" "I was able to ask those questions," Bobby recalled, "because we had an open and honest relationship and I could tell that Leslie cared."
Come prepared but be flexible
Bobby also recommends coming to each mentor meeting prepared, but she and Leslie let the conversation go where it needed to go. Leslie explains, "We'd be working on one thing and then Bobby would be like, 'Ok, now I need to talk about this.' It may have been a divergent topic, but it had similarities in the way we were able to talk about it." Bobby did the same: "There were times when what I had prepared for our meeting wasn't what we focused on. Leslie would say, 'Ok, let's shift gears. You're seeing it this one way and you've run yourself into a corner. Let's back way out.'"
"There were times when what I had prepared for our meeting wasn't what we focused on."
Accountability is a must
Mentoring programs are growth cauldrons, which require holding the other person accountable, not only for showing up to meetings, but also for showing up in an open, responsive way. Bobby told Leslie, "It wasn't that you gave me every answer, but you showed me the road to get the answers I needed. Then, you remembered those issues in our next conversation and you kept following up. You held me accountable." Leslie responded, "That was helpful for me as a mentor too. I would give you advice as a mentor and then reflect, 'Oh yeah, I should remember that too.' So, I found our time together incredibly helpful."
Why a formal mentoring program?
Accountability is one of the major benefits of an in-company mentoring program. Others include seeing how your mentoring strengthens your workplace in a positive way. Leslie shared with Bobby, "Now, what I personally gain from in-company mentoring is that it impacts the work that Bobby and I are doing at CHG. I get to see my mentee in action, which is not the case otherwise."

How did headquarters turn out?
Both Bobby and Leslie would agree that the stunning new
CHG
headquarters was worth all the growth pains. The best part: they created a variety of areas in the building for future mentoring sessions to take place easily and effectively. Win-win.
Have you benefited from a mentor-mentee relationship in your career? Share your experiences below.