"Plan ahead, pack light, and never turn down an opportunity for an adventure!" That's the advice that therapist Rachel Hand offers to anyone considering the travel SLP lifestyle as a career option. Rachel found travel therapy through a close friend and coworker as a permanent SLP in Nebraska.
"My friend spoke highly of the company, so when I decided to start traveling, CompHealth was first on my list. It has a great reputation among SLP travelers, many opportunities to work across the United States, and has been accommodating with placements. Currently, my OT friend and I are able to travel together because CompHealth has placed us in the same city!"
Top advantages of the travel SLP lifestyle
Rachel enjoys traveling for many reasons. In addition to being happy with the pay and schedule flexibility, she loves having the chance to explore
parts of the country
she might not otherwise get to visit. She especially enjoys being able to adjust her work hours around her favorite activities, and to coordinate assignments in the same city with her friend Marin, an occupational therapist who also travels. In her off time, Rachel enjoys activities hiking, painting, mountain biking, singing, baking, playing her flute, and going to musical theater productions. So far, she's hiked in 12 of the 58 national parks in the United States. She also finds that attending local churches helps her to meet new people and make new friends who share her interests.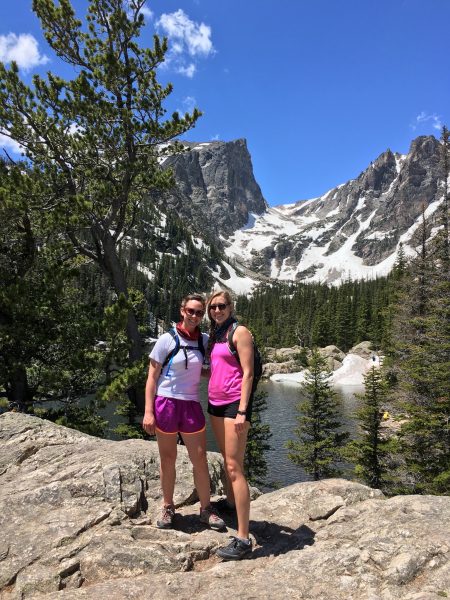 Professional benefits of SLP travel
Rachel works at the Kingman Regional Medical Center in Arizona, which offers both inpatient and acute rehab settings. She values her interactions with her permanent staff colleagues there. This is her first
travel assignment
, and she's enthusiastic about her work relationships.
"The therapy staff at Kingman Regional Medical Center are welcoming, fun, and always willing to provide suggestions for my next hiking adventure! They've helped make my transition from perm to traveling SLP easy for me. That's the main reason I've extended three times since arriving in August. The weather is amazing – more sunshine and warmth than I experienced living in Nebraska and Indiana."
A good provider representative makes all the difference
Rachel credits John Tietema, her recruiter/provider representative, for checking in with her frequently. At least once a week, he reaches out to her to make sure things are running smoothly on assignment. John's the one who nominated Rachel for this traveler spotlight and she made sure to express her appreciation for that when we contacted her. For Rachel, life is great on the road, and she plans on seeing more of the U.S. and making more memories along the way. "I look forward to continuing my time as a traveler with
CompHealth
and the many adventures to come!"