In the northeast corner of Arizona, in Navajo County, lies a small town called
Pinon
. With a population of less than 1,000 people, Pinon is two-and-a-half hours from its more well-known neighbor, Flagstaff. Picture wide open spaces, starry night skies, and red rocky terrain. It seems like an unlikely place for a locums NP to meet a best friend — but that's exactly what happened when two NPs who shared a passion for caring for the Navajo population were assigned to the same Indian Health Service facility in the desert. Nurse practitioner Michelle Freiberger loves working locum tenens because it gives her the freedom to travel between assignments and spend time with family and friends. She was drawn to CompHealth, she says, because her recruiter was "caring, compassionate, and patient," and because she appreciated the benefits of a 401K and a health insurance plan. What Michelle didn't know was that she'd meet a best friend on the job in Pinon. Most of her positions have been in
Indian Health Services
, and she finds her time with IHS incredibly rewarding. She says that the staff have an honest desire to do what is best for the patient and she appreciates being given "ample time to care for each patient." On an undoubtedly hot day at the Pinon facility, a new locum tenens nurse practitioner started, and Michelle connected with her immediately. That NP was Paige Farris. "She was just so positive, grateful, and appreciative to work with the Navajo population…I have a lot of respect for her," says Michelle.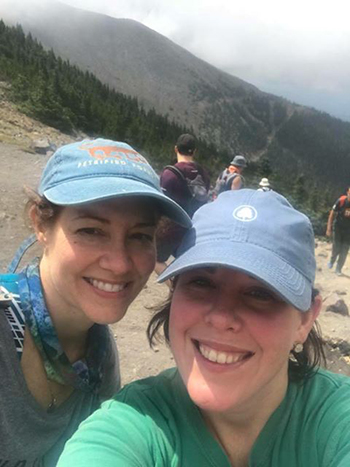 Of Michelle, Paige says "We just clicked on day one. She is a loving, supportive friend and it felt like we had always been friends." It was Paige's first locum tenens assignment, and Michelle was there to help her feel welcome, as she knows how tough it can be to connect with other people in remote locations. Thankfully, both nurses share a love of adventure and like to hike in their spare time. Paige says she's made several lifelong friendships with the providers in Pinon. She loves the diversity in her NP positions in primary care and the emergency department. Echoing the sentiments of Michelle, she says that what made her choose CompHealth were the "wonderful benefits and amazing recruiter." When Michelle's assignment ended, Paige went "out of her way to help me move," says the NP. The two friends are now on different assignments, but they continue to stay in touch and are grateful for their experiences together. The friends were excited to share their advice with other NPs who may be uncertain about whether to jump into locums: "Take the plunge! It is so much fun! Being a locums NP has greatly enhanced my life," says Michelle. "Enjoy the new adventures. Get out and explore," says Paige. "This has been and continues to be the best decision of my life. I used to live to work. I now work to live!"
Whether you'd like to see the open desert or prefer a city locale, CompHealth can help you find the right fit. View today's opportunities or call 800.453.3030 to learn more about locum tenens.