Bhavesh Shah, MD, shares how a medical mission to Paraguay changed his life and his perspective on being a physician.
The day I arrived in Luque, Paraguay for a medical mission with IMAHelps, I immediately considered going home. My name is Bhavesh Shah, I'm a locums interventional gastroenterologist with CompHealth. Myself and a team of over 100 healthcare providers had just travelled from all parts of the world to perform free surgeries and other procedures in this underserved area. This was my first experience on a medical mission, and the Hospital General de Luque had never performed a single endoscopy procedure — I was the first gastroenterologist to be invited to one of their missions. To add to this, the endoscopy equipment had not yet been delivered, and it was not clear when it would arrive; I was not sure if I could be of any help at all.
My most memorable patient
I was hopeful that conditions would improve, and luckily the next day my endoscopy equipment arrived. The equipment was very dated and initially additional equipment was not available — such as biopsy forceps or a brush to clean the scope. Matias (who provided the equipment) and I nonetheless set up a functioning endoscopy unit in under eight hours. We had just gotten everything set up when a member of the hospital staff came and told me about a little girl who would become my first and most memorable patient in Paraguay — a 19-month-old who had swallowed nail clippers.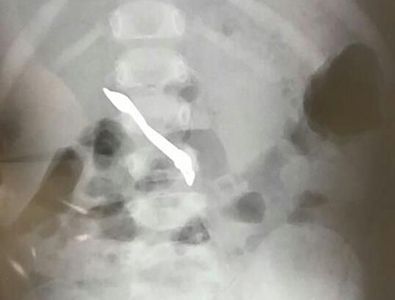 She was actually scheduled for surgery later that day, but I knew that an endoscopy was the right answer for this tiny girl. This underprivileged family had no access to endoscopy because none of the local government hospitals had the capability.
Usually, I would not have considered seeing a patient so young in the states; she would have seen a pediatric gastroenterologist. I had never been so nervous before a procedure. Although I minored in Spanish and speak quite well, communication was difficult during those tense moments. There was pressure to successfully scope such a young child, pressure in putting the parents at ease, and pressure in ensuring the staff was comfortable in assisting with a procedure they had never seen performed before.
Saved from major surgery
I talked to many pediatricians and anesthesiologists on our team about this case. They encouraged me to go ahead with the endoscopy. When the time came for the actual procedure, we were able to remove the clippers using a biopsy forceps in just 5 minutes. She had been saved from the ordeal of major surgery with the help of all of us who happened to be in the right place at the right time. Her parents were overjoyed; her mom just broke down in tears when I showed her what we had just removed. As soon as the little girl was back in her parent's arms, word began spreading throughout the area about the case — it created an amazing atmosphere. We attracted so much excitement that a news crew from ABC News Paraguay came out to interview me and the hospital officials about the story.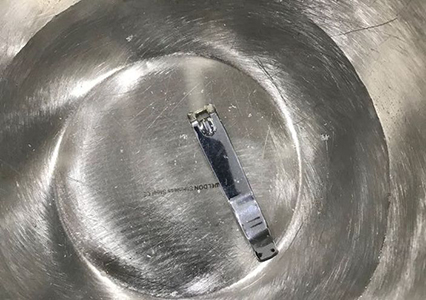 The endoscope is a flexible camera; it goes in through the mouth and is advanced beyond the stomach. The endoscopy procedure is performed regularly, but we're not usually removing foreign bodies, and if we do, it's maybe a battery or a coin. The nail cutter was quite large, and I am not sure how a 19-month old could swallow it. That girl was very lucky she was in the hospital while we were there, because she would have definitely had major surgery otherwise. I've never done anything as dramatic as that case, and I doubt I ever will.
A tremendously gratifying experience
When the adrenaline of that procedure had subsided, I settled into a routine for the remainder of my time in Paraguay. That week I scoped twenty-five patients, and I helped other physicians with procedures and spent time assisting in the triage unit, where I got a chance to speak with patients face-to-face about who they were, why they were there, and what was troubling them. Our IMAHelps team included specialists in gynecology, pediatrics, orthopedics, prosthetics, ophthalmology, dentistry, internal medicine, cardiology, general surgery, and reconstructive surgery; I was the only gastroenterologist on the team. All told, our IMAHelps team of 102 who traveled to Luque treated more than 800 patients a day; people traveled from miles away and started lining up outside the hospital at 2 a.m., the long line ending in a huge tent the hospital erected as a de facto waiting room. I've been all over the world, and I've never seen anything like it. It was a tremendously gratifying experience.
How locum tenens made it possible
Without my locum tenens position with CompHealth, it would have been difficult to participate in such a mission. The most evident benefit for a locum tenens physician is the flexibility. If I had been employed in a "traditional" full-time capacity, I would have either been unable to take enough days off for the trip or I would have been forced to jump back into work immediately, having to catch up upon arrival. I met several providers who use their whole year's vacation from their permanent jobs to do this trip. As an interventional gastroenterologist, a former medical director in a hospital, and a former GI director in a cancer center, I know how difficult that is to arrange. To take 10 to 12 days off from a position like that means that you get back on a Sunday, and you're definitely working Monday after a fifteen-hour flight. Without having a flexible schedule, I most likely would not have made the trip.
Instead of being forced to jump through scheduling hoops, I simply told my CompHealth specialist (Matthew Houlin) that I wanted to join the IMAHelps group, and he helped me plan my assignment around it, leaving ample time at the beginning and the end of the trip for preparation and recovery. It was easy and seamless, so I'm definitely going to go back if I can. Another rewarding layer to this was the support I received from the hospital where my assignment was and from CompHealth for utilizing my time off in this way.
I first entered the locums market a few years ago in between jobs while I was awaiting my California medical license, and I have tried to maximize the benefits of locums regarding forwarding my skills and experience within my career. Beyond the obvious scheduling advantages, I am convinced that my time doing locum tenens has helped me to become the type of nimble, adaptable doctor that can perform well in less-than-desirable, new, or unfamiliar conditions. The particular mindset you should have when you enter the locums market helps you when you're in a situation where you don't have your normal staff or equipment and you're in a different place entirely. Everything is just so different, but it helps you function under different circumstances. It could be a new country, new food, a new hospital, or a staff you've never worked with before, but at the end of the day it's about the patient.
My experience in Paraguay is something that I'll never forget — a large part of being able to participate in that mission was the ease in which I was able to consider it and then arrange it. This is certainly one of the many advantages to being a locums physician. I look forward to sharing more of my experiences with you in the future.