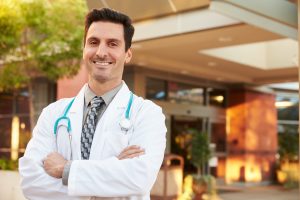 Locum tenens assignments can be a welcomed and profitable endeavor for physicians looking to experience a locale or facility before accepting a permanent position, those seeking supplemental income in-between jobs, as an alternative to full retirement, or even working full time. Locums work is appealing on many fronts. What, however, can a physician do if intriguing assignments appear in states other than the one the physician has a license for? Only 16% of physicians, according to the
Federation of State Medical Boards
, have more than one active license at a time. Should physicians be dissuaded because obtaining licenses in other states seems too daunting an obstacle? They should not be. Licensing can be accomplished expeditiously when the physician is armed with knowledge about the proper preparation and available resources. Locum tenens assignments are often posted months in advance of the start date, allowing an interested physician time to obtain licensure. With that in mind, let's look at how a physician can be better prepared.
Medical License Documentation Requirements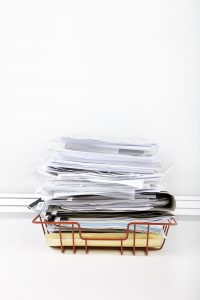 Documentation requirements for licensing are similar state by state, so the physician who is prepared for a medical board's document request will help speed up the licensing process.  The common documents needed are:
Current CV
References
Proof of education, transcripts, and training
Documentation of USMLE, and FLEX where applicable, exam completion
Fingerprint cards, many states requiring 2 sets of prints, for the licensing state
Summary of derogatory information
State boards do extensive background checks and will uncover derogatory information, from malpractice suits to disciplinary write-ups and patient complaints. Be forthcoming with any and all such information when requested on your applications. You can check the
National Practitioner Data Bank
to confirm any derogatory information on your record.
Primary Source Verification
Medical boards usually mandate that they receive important documents, like proof of education, transcripts, and training, not from the physician, but directly from primary sources like the medical school and residency program. In which case, being prepared for a medical board's document request means contacting your med school, residency program, or other primary sources to expect medical board requests for your information.
Medical License Time Requirements by State
Set realistic expectations for how quickly individual states will provide a license. Some states will expedite the licensing process in a matter of weeks, others take quite a bit longer, usually several months or more. Though more difficult, obtaining these licenses opens up a variety of locum assignments down the road that make the effort well worthwhile. The rest of the states fall somewhere between these two groups.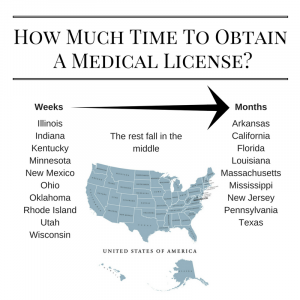 The Benefit of Multiple Medical Licenses
Having multiple licenses makes more locum tenens opportunities available for physicians. Not only do choices expand, so do the options for the type of work, the duration of assignments, and the flexibility of the schedule. All of these can lead to greater physician satisfaction and quality of life. In addition, having a license in one or more states makes becoming licensed in another state easier through a process called license by endorsement. This means a streamlined application for individuals licensed in a state that has comparable licensing requirements of the state desired.
License Portability
States recognize that licensing's cumbersome nature is ripe for change, especially as telemedicine demands grow. As a result, many states have signed on to the Interstate Medical Licensure Compact (IMLC), which expedites the process for practitioners in one of its member states to become licensed in another member state.
View the latest list of IMLC member states here
.
Make Sure Your Paperwork is Accurate
One of the greatest obstacles to expedited licensing is self-inflicted – the unintended inaccuracies that come from overworked physicians filling out licensing applications after long clinic hours, while on call, or in-between patients. One or two errors, like information entered on a wrong line or omitted altogether, and the licensing wheels can grind to a halt. Accuracy needs to be uppermost in the doctor's mind in complying with information requests for licensing.
State License Information
The primary place for a state's licensing requirements is the state's medical board internet site. There you will find what information is needed, procedures you are to follow, and the fees required.
The Federation of State Medical Boards
offers a convenient directory on its website that will also help with researching the requirements for each state.
Federation Credentials Verification Service
A growing number of states accept or require use of the Federation Credentials Verification Service. The FCVS acts as a safe and permanent place to store commonly referenced, primary-source credentials like those listed above. Physicians submit their information once and then enjoy easy, time-saving access to their information for future use. The service also ensures that state medical boards receive your information verified directly from the source, eliminating any concern about fraudulent documentation. Find out more about this service at
FCVS
.
Get Free Help With Physician Licensing
CompHealth offers a valuable, complimentary License Assist service, which creates a swift, seamless experience for hires at its client partners. With years of experience working with state medical boards, the service focuses on the activities essential to delivering complete and accurate licensing submissions. If you currently work with CompHealth reach out to your rep to find out more. If you are not currently working with CompHealth check out our
job board
, if you see something that interests you call 800-453-3030. Physicians have more options today than ever before. Holding multiple licenses greatly increases the opportunities that can be found with working locum tenens assignments. The key to being successful at obtaining multiple licenses is recognizing and being prepared for the critical steps in the licensing process.