Hanna Ivantsova wasn't about to take chances, not as she was embarking on the biggest personal and professional leap she'd ever taken in her life. She would leave home for the first time and journey to parts unknown. In fact, that was one of the reasons travel jobs appealed to her. She had seen little of these United States of America, and she wanted to explore the country before settling in one place. As exhilarating – and scary – as the prospect of taking to travel was, she was determined to mitigate anything going wrong by planning her course of action carefully. Here are four travel job success secrets she found.
1. Do your research to minimize risk
Hanna started with finding the right travel company to work with.
"I did my research when it came to choosing a company," she said. "I reached out to other travelers on LinkedIn and called up a bunch of recruiters. Not only would this be my first career position, but it would also be my first time living away from home, way away from home. So I wanted to find a company that would be there for me every step of the way."
She found that company in CompHealth. "My recruiter and her team made the process – from documentation to moving to the other side of the country – as seamless as they could."  Even two months into her first assignment, she said, her recruiter was checking in and always available when needed.
2. Get clear on assignment details and talk to your recruiter
Hanna's decision-making process included comparing everything, from CompHealth's competitive rates to the tax-free meal per diem to the housing stipend to their reimbursement of state licensure fees, for which she advises, "Keep your receipts!" CompHealth also offers CEUs for free, and she says, "We know those can rack up some high bills!" CompHealth's health insurance options were another major decision factor: Hanna had a choice of several different plans from leading insurance networks. If she needed to, she could talk with her CompHealth recruiter about the physical move. Finding a place to live can be challenging, she says, but thoroughness pays off here as well. "Give yourself some time to check out a few places in person, since online pictures don't always align with how the place actually looks. After all, you want to come home to a place that you enjoy." [caption id="attachment_14139" align="aligncenter" width="600"]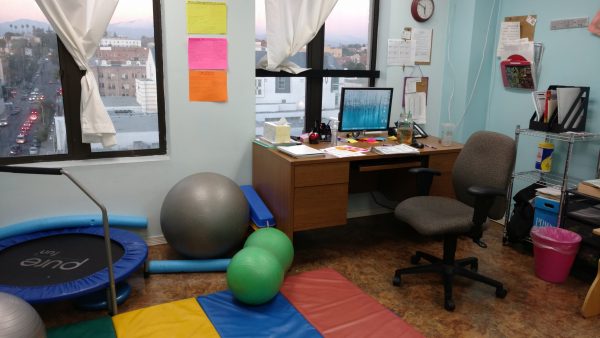 Hanna Ivantsova's travel work space
[/caption]
3. Embrace working relationships in the new facility
Her partnership with CompHealth has paid off better than she had hoped. She so loves her first assignment, she's had it extended six months.
"My assignment is in a pediatric outpatient facility. The staff welcomed me with open arms, which was just so nice. I was already able to tell from the interview that it would be a positive environment."
Hanna works mostly with early intervention but does have a few school aged kids. She feels appreciated by both the staff and the parents of the children she's treating. "To be able to make an impact on these lives and to see progress is one of the most rewarding experiences for me."
4. Make the most of free time in a fun new location
In her spare time, Hanna gets to enjoy the inviting California weather. "Some days," she says, "I just cuddle up in a coffee shop near home and do some research and catch up on my to-do list. Other days I go hiking, practice yoga and meditation, or go out to shows. There is always something going on in Los Angeles." In summing up her travel experience with CompHealth, Hanna says, "Being able to travel and have a position waiting for me is such an amazing opportunity. Having a team of individuals who are extremely knowledgeable, devoted, and there with you every step of the way has made this process just so much less stressful," for which, she's "thankful from the bottom of my heart." Was she taking a chance working with CompHealth? With all the due diligence Hanna invested, not really. It was a sure thing.