Healthcare facilities are facing a lot of uncertainty today: COVID-19 cases are rising, PPE is in short supply, providers are burned out, and revenue is down due to delayed or cancelled elective procedures. With so much up in the air, healthcare planning during COVID has become even more complicated as the winter months arrive. Here are six ways your facility can prepare for whatever the pandemic may throw at you.
1. Address physician burnout
Burnout has always disproportionately affected physicians, with 65% of emergency medicine physicians reporting burnout symptoms before COVID even appeared. The numbers these days are undoubtedly higher. Finding ways to prevent burnout before it occurs will help your physicians continue to be able to provide quality care.
"Hospitals are asking physicians to do more, to see more patients, to be on call more. It's starting to wear them out," says Derek Wade, senior manager of the CompHealth locum tenens cardiology team. He recommends healthcare facilities pay close attention to their providers' level of engagement and discuss how the pandemic has affected their work-life balance and stress levels.
For Tim Putnam, CEO of Margaret Mary Health in Batesville, Indiana, communicating regularly with his staff has helped decrease the uncertainty many are feeling. "We wanted our people to be in the know," he says. "Having me sit in front of a video screen talking about what we're doing and why we're doing it, that's made a difference to a lot of folks."
RELATED: Read more about ways to address provider burnout
2. Plan for unexpected staffing shortages
"I have four OB docs, and two came down with COVID-like symptoms on the same day. So they were out. So now my OB program's in trouble." Does this scenario sound familiar?
For Putnam, his experience earlier this year was a reminder that even solid service lines can experience disruption these days. Replacing physicians who are unexpectedly unable to work with others in your facility is ideal, but when that's not possible locums physicians may be able to step in to fill the gap.
"We've had scenarios where people call us on a Thursday or Friday and need someone by next weekend. We can have a physician working by then, as long as their facility is willing to work with us on the privileging requirements," says Wade.
3. Go virtual with recruiting
Many facilities turned to virtual recruiting when the pandemic hit, and they're finding that going online has many benefits. Both Einstein Healthcare Network and LifePoint Health have turned to virtual recruiting with positive results.
Myron Applequist, executive director of medical staff development at HaysMed, a part of the University of Kansas Health System, says the pandemic has given his facility another reason to go virtual: many interviewees come from states that require them to quarantine for two weeks following travel to a hotspot.
He says his organization is still trying to find the way that works best for their virtual recruiting efforts. "Zoom conferences are very helpful, but when everyone's very accustomed to a traditional onsite visit, a Zoom conference doesn't quite check those boxes. So we're working through that."
4. Improve patient confidence
While many facilities are ready to ramp up procedures and office visits, patients may still be reluctant to return. Finding ways to improve patient confidence can help your patients feel comfortable enough to come in, and bring back revenue, too.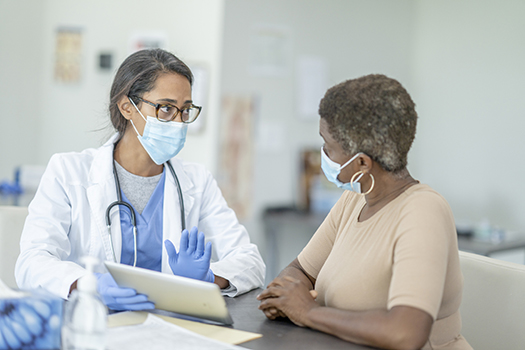 Putnam says Margaret Mary Health has gone online to address patient confidence. "We have a ton of videos on our website. We've tried to get out to our community, 'this is what we know about the disease, this is what's happening, this is what you need to be aware of.' A lot of the videos are from our physicians and other leaders, explaining what we're doing to protect you."
Making changes to your patient flow — from front-loading paperwork and adjusting the waiting room to using telemedicine to triaging appointments — can also help put your patients at ease. Just remember to communicate the changes so patients know what to expect when they arrive.
5. Consider locums instead of a permanent hire
The pandemic has caused uncertainty for healthcare facilities in both patient volumes and revenue. This makes planning for future staffing needs more difficult, and you may be hesitant to sign on a new physician with a multi-year contract.
Wade says bringing in a locum physician can help facilities ramp up care and increase revenue while remaining flexible in the short-term. "You could have a physician come and work one week a month to bring in additional revenue," he says. "Maybe you're not ready to bring in a full-time physician, but one week a month and rotate a physician to come in? That gives you a bit more revenue and helps keep the lights on — keeps the service line going without having to pay for full-time coverage."
Locums are more flexible for other reasons, too. "They don't require as many approvals. Most medical directors have the ability to make a lot of those calls," says Wade, which makes the hiring process faster.
6. Find unique solutions
Whether you're a big urban facility or a small rural hospital, you can find creative ways to overcome the specific challenges you're facing.
Putnam says his facility turned a closed school's health room into a virtual respiratory clinic. "We had a partnership with a school to have telehealth to our docs when a child has something going on. Since the schools were shut down, we used the telehealth equipment as our respiratory clinic. If they've got respiratory or acute symptoms, they go in for a visit, and we keep them away from our chronically ill patients," he says.
In Kansas, rural facilities have created a referral program to make sure patients get the surgery they need, says Sasha Randolph, recruitment and retention manager at the Kansas Recruitment and Retention Center at the University of Kansas Medical Center. "Many rural hospitals have a backlog of surgeries and as they're starting to cancel them due to the COVID increase, they haven't been able to address it," she says. "Right now, they're doing community referral programs and that has helped —referring community to community to help make sure that the need is met."
Flexibility is key
The key to healthcare planning during COVID is flexibility. With so much uncertainty, it's challenging to know what the healthcare landscape will look like as we move into 2021. Hiring locums physicians is a flexible option that can help reduce provider burnout, maintain levels of care, and bring in additional revenue.
CompHealth specializes in finding the best physicians, PAs, and NPs to fill your staffing needs. Give us a call at 800.453.3030 or complete the form below.