With so much stress and anxiety in the world right now, it's no wonder that
healthcare professionals are struggling with burnout
. However, there are several ways to reduce your stress levels in 10 minutes or less, allowing you to focus on your job — and stay healthy. Try any of these 12 ways to reduce stress in the moment.
1. Eat fermented food
You should probably still pass on that slice of bread with the blue dots all over it, but when it comes to a charcuterie board, dig in. One study noted that a higher intake of fermented dairy (like cheese and yogurt) was correlated to
less anxiety
— meaning splurging for an extra dollop of sour cream might be just what you need.
2. Imagine drinking coconut water with Oprah
Kaiser Permanente recommends
practicing "guided imagery"
to reduce stress in the moment. This practice requires you to take a minute to imagine yourself in a less-stressful setting, such as on a beach or in a forest. The key is to stimulate all your senses by filling in the blanks of this imaginary place, bringing the calm and peace of the setting to wherever you are right now.
3. Take a minute to meditate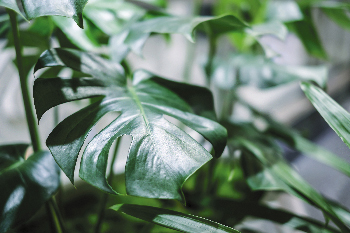 Meditation has been shown to
help reduce heart disease risk factors
such as high blood pressure. Find a quiet place and take a few minutes to be still and reflect. A meditation app may help you get into the zone more quickly. And, for the rest of 2020,
Headspace
 is offering
free access for healthcare workers
 with an NPI number. The offer is their way to say thank you to healthcare professionals for helping keep us healthy during the COVID-19 crisis.
4. Try progressive muscle relaxation
If you haven't tried this easy
trick to relieve stress
, you're in for a treat. It's done by focusing on small areas of the body, tightening the muscles, and then slowly releasing the tension. Start with your feet and work your way up your body until you've contracted and released all your muscles.
5. Connect with your inner eagle
Starting a regular yoga practice can help you relieve stress, but when you need to relax quickly, bending into one of
these seven poses
can do wonders. Check out
this tutorial
to nailing the eagle pose, which you can use when you need a quick pause.
6. Chew gum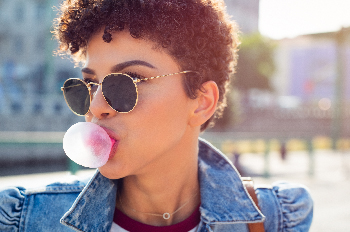 Chewing gum does more than ward off halitosis. In a study reported in Medical News Today, levels of salivary cortisol (
a physiological stressor
) in participants who were chewing gum was 16 percent lower than participants who weren't chewing gum. It just might be the perfect stress reliever to enjoy when you're taking your break.
7. Go on a 10-minute walk
We all know that exercise increases the happy chemicals in our body, but sometimes fitting a 45-minute sweat sesh into an already busy schedule is daunting. Good news: psychologists suggest that a 10-minute walk can be just as effective as a full-on work out when it comes to
reducing anxiety and depression
.
8. Treat yourself
It's hard to doubt that a warm chocolate cookie is a great antidote for stress so you won't be surprised to learn that researchers at the University of Cincinnati report that sweets may
decrease the stress hormone
: glucocorticoid. That spoonful of sugar does more than just help the medicine go down.
9. Become BFFs with your coworkers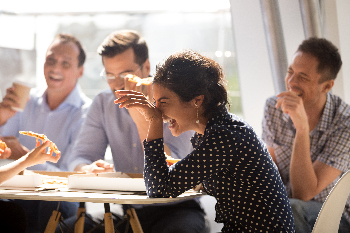 A study reported that the presence of a best friend  "
significantly reduces" the negativity
of bad experiences, so if you want to reduce burnout in the moment, make the people you work with your friends. (Here's a list of helpful tips to
make friends at work
— because we know it's not always easy.)
10. Listen to tunes
Take note: music increases your dopamine levels, soothing your anxious feelings. A study published in Nature Neuroscience suggests that the climax or anticipation of the climax releases those
happy chemicals
. Check out
The Ultimate Mood Booster Playlist
if you need some songs to get you going.
11. Hum to yourself
If you can't have music in your work environment, just hum your favorite tune. A study was designed to
reduce burnout and increase mood
of stressed out nursing students. The researchers discovered "recreational music-making," including humming, helped these students on both accounts.
12. Watch a funny video
The Mayo Clinic notes that laughing can "increase and then decrease your heart rate and blood pressure" as well as "stimulate circulation and aid muscle relaxation." So it may only take a 3-minute cat video or SNL sketch to
reduce stress in the moment
.
What methods do you use to reduce stress in the moment? Share your tips in the comments below.