Since the COVID-19 pandemic began, healthcare organizations have been under increased pressure — clinicians are stressed and anxious, layoffs and furloughs have affected morale, and decreased revenue has forced many to make difficult staffing decisions. As a result, it's important to modify your hospital onboarding and retention strategies to compensate for these challenging conditions. Here are five strategies that can help you be more successful in onboarding new providers and lower the risk of costly turnover among your existing staff.
1. Understand the provider experience
Building a successful onboarding program requires buy-in from all relevant stakeholders, and collaboration is key. This is always true, but it's more important than ever when your onboarding needs to evolve during a time of crisis. What is your providers' onboarding experience really like? And how will that contribute to their overall satisfaction with their choice to join your organization?
Amy Powell, director of provider recruitment and retention at Reid Health, says that bringing all the stakeholders together has allowed her organization to gain a better understanding of the provider onboarding experience.
"We brought together 70 key stakeholders and  worked on value stream maps to make sure that we understood as an organization how we were contacting the physician or the APP from the time they signed through the first year," Powell says. "We found we weren't really thinking about it from the standpoint of what it feels like to be that clinician in this confusing state of transition."  By bringing together everyone who is involved in onboarding, the team was able to better understand how they were communicating with their newly hired clinicians and look for opportunities for improvement.
2. Be purposeful
A value stream map can also help you understand how efficient your organization is in its onboarding processes. Powell says the stakeholders at Reid Health used their map to examine every part of the provider onboarding process.
"Safe pathways are something that we're very focused on — for our clinicians, our employees, and patients," she says. "We found that everyone was doing onboarding a little differently. Multiple parts of the organization were asking the same thing over and over. Now, we're really laser focused on creating a streamlined, purposeful contact with our clinicians as they are onboarding here, and we really feel that that's going to help us with our retention."
To solve this issue, identifying a liaison to serve as the point of contact for all onboarding processes can help ease the burden on the clinician and reduce the number of requests they receive.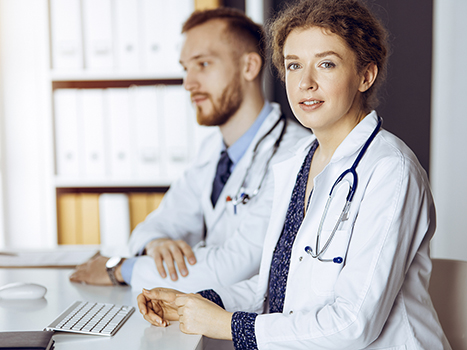 3. Schedule regular check-ins with new hires
One of the simplest ways to help a provider onboard successfully is to check in with them frequently. The Advisory Board says a physician's first 90 days at work are an important predictor of long-term engagement, and making sure their concerns are being heard early on is critical.
Scheduling regular check ins with the clinician in a safe, private environment will allow them to provide candid feedback. Ask them how the position is meeting their expectations, and how they're interacting with colleagues — this can help you address minor issues before they become larger ones, and ideally lead to better retention.
4. Find ways to reduce stress
Burnout has long been a problem for healthcare providers, and the pandemic has only exacerbated it. Finding ways to reduce the stress employees are experiencing can go a long way toward keeping them satisfied at work.
At Seattle Children's Hospital, one way they are helping lower clinician stress is by working with those who have school-aged children home from school this fall. "We're back in this situation of people trying to maintain work hours, or work from home and homeschool their kids. So we're trying to identify what the situation is and who's going to be in trouble. Then we're trying to find what we can put in place now to help mitigate that situation," says Ronna Smith, manager of APP clinical education.
At Reid Health, Powell says the onboarding committee has found ways to assist new hires who still have student debt. "We've engaged an outside student loan service that provides tailored student loan advice to physicians," she says, adding that the service is also helping with pandemic-related issues such as the CARES Act and repayment relief options.
5. Provide opportunity for social interaction
One result of the pandemic has been decreased social interactions, including in work settings. For new employees especially, it is harder than ever to feel like part of a team during this time of social distancing.
Powell says Reid Health is working on reimagining their clinician lounge to better encourage social interaction in a safe way. "It used to be a place where everybody would bump into one another and ask how their day was going," she says. "We don't have that anymore, so we're focused on providing a better experience in our lounge. We've put some exercise equipment in, and have different areas that allow them to either relax or work."
Focus on engagement
While hospital onboarding and retention have always been key issues for healthcare organizations, making sure you are doing it well has never been more important. Although the healthcare workplace may look different right now, focusing on employee engagement will lead to happier clinicians, a better patient experience, and improved business outcomes — a win-win situation for everyone.
Learn more about employee engagement by watching the webinar "Employee engagement in a changing workplace", hosted by CompHealth's parent company, CHG Healthcare.