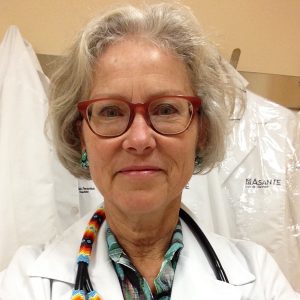 Dr. Susan Newcomb had worked in the same job, in the same hospital, for more than 30 years. She was feeling constrained by the corporate restrictions of a large hospital, and it was affecting the way she approached patient care. "I was feeling confined and unhappy," she says. "The hospital kept shifting policies and mandates, and I felt like I had no control over the changes and what should be done." When she and a few of her friends traveled to a hospitalist convention, they stumbled upon the CompHealth booth. This was the first time they had been formally introduced to locum tenens. After learning about the job flexibility and work/life balance that locum tenens allows, Dr. Newcomb was convinced that this was the path she wanted to follow. Locum tenens was going to be the way she could take control of her schedule — and her life. "Many places require that hospitalists take care of over 20 patients a day, sometimes 25 or more. And it's been shown to be unsafe, but we're asked to do that anyway," she says. "At my age, I don't have the stamina I used to have, so I don't want to be pressured to do more work than I'm comfortable with."
Stepping Outside Her Comfort Zone
Not only has working locum tenens provided Dr. Newcomb the opportunity to give back to underserved communities, it's also forced her to find different solutions to problems she's never faced before. "I went to Gallup, New Mexico, where it's primarily Navajo, with an all-tribal population," Dr. Newcomb shares. "The elders only speak Navajo. The patients often have no running water or electricity. One time I was setting up an elderly lady for oxygen in her home. My mentor at the clinic pointed out that she sleeps by the fire and there is no electricity in her home for the oxygen she needs. I became aware that I'm really going to have to think outside the box here. " Challenges like she's experienced on her Gallup assignment and the opportunity to work with other physicians have broadened her skill set and made her a better doctor.
Taking Control of Her Schedule
Dr. Newcomb has a newfound appreciation for the work/life balance she has while working locum tenens assignments. "I can focus on my work, then leave it behind. Home is even better when I get back," she says. "If I need to be with one of my elderly parents, I'll be able to do that. I have control over my schedule for the first time in 38 years."
RELATED: 10 Reasons this Hospitalist Loves Working Locum Tenens
Falling in Love with Medicine Again
After working more than 30 years at the same hospital, burnout became a huge problem for Dr. Newcomb. She wasn't sure if she wanted to continue working in medicine. But working locums assignments has helped her enjoy her work again. "My feelings of burnout from my previous full-time employment are gone," Dr. Newcomb says. "I am pleased to find out that I still love medicine." She's also been able to travel to new locations and looks forward to exploring even more. "It's fun," she says. "I now have a college-aged daughter in San Antonio, Texas, so that's attractive, and I have never been to the Deep South. I can go anywhere and enjoy new cultures, climate, scenery, and recreation." Working locum tenens has given Dr. Newcomb a new outlook on her career as a physician. "I would never go back," she shares. "I'll do locums until I'm finished with my career." Do you want to enjoy both your professional and personal life?
Check out the job opportunities at CompHealth.