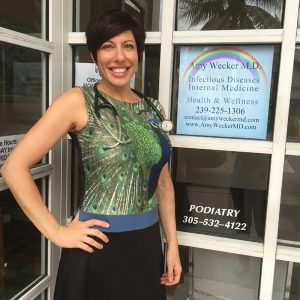 Dr. Amy Wecker loves to travel. From earning her undergraduate degree in New Orleans to attending medical school in the south of Israel and doing her residency in New York, she has taken advantage of many opportunities to see and learn new things. After residency, she took a job with a multi-specialty private hospital in Fort Meyers, Fla., where she focused on
infectious disease
. "I really loved my job so much," Dr. Wecker shares. "It was great, but I wasn't crazy about Fort Myers because I really like to live in the city. During my time there, I paid my medical school loans off and I became a partner in the group." Although she loved her job, the allure of
living in Miami
was too strong to resist. So, after seven years with the hospital, she resigned and found a job in Miami with a private infectious disease group. "I timed everything so that in between the jobs I could actually do a yoga teacher training," she says. "It was two months long and you can't really take time off work, but I could easily afford to not work for two months as long as it was just in between jobs."
When Work Takes Its Toll
Dr. Wecker loved living in Miami and teaching yoga on the side. However, she quickly realized her job with the infectious disease group was not the right fit. "It just was a lot," she recalls. "I was covering four large hospitals in South Miami. I really loved the hospitals, and I loved my work as an infectious disease doctor but it was so much. It was long days and then traffic and a ton of weekends, and I felt like it was really pulling my life out of balance." After a year of working at this pace, Dr. Wecker hit her limit and started feeling burned out. She turned to her yoga training to find some relief. "I went on a yoga retreat to Peru and did a lot of meditating," she says. "I realized that I could not sustain this anymore, so when I got back I actually went on the internet and started researching locum tenens. I had thought about it in the past because I love traveling so much."
Overcoming Burnout
Focusing on yoga led Dr. Wecker to seek out a more balanced approach to her career. She contacted a CompHealth representative and before she knew it she was heading to her first
locum tenens
assignment in South Dakota. "I was there for nine or ten days over Christmas and it was a really amazing experience," she recalls. "I'm an independent, confident person but being there alone really taught me even more about being independent and confident." Not only did Dr. Wecker gain more confidence, but working as a locum tenens physician also allowed her to take a much-needed break to overcome her burnout. "I was able to take the whole month off, which was amazing because I needed some time to recover from that year," she says.
Finding Career Flexibility
[caption id="attachment_9946" align="alignright" width="248"]
Dr. Wecker practicing yoga with her coworker while on a travel assignment.[/caption] Dr. Wecker used that recovery time to build the career mix she's always wanted. She now works locum tenens, manages her own part-time private practice, and still has enough time to teach yoga classes. She even shares the benefits of yoga with her coworkers while on assignment. "Yoga is a whole philosophy and way of life that definitely impacts the way I practice medicine," she says. "I really believe that stress is so bad for you. Things happen in life that we don't have any control over, but we need to decide how we're going to perceive and react to those things." Working locum tenens has empowered Dr. Wecker to achieve her ideal work/life balance and take time for the things she enjoys. "I love being a doctor, but I can't devote 100 percent of my life to it," she shares. "There has to be a balance and locums has been able to help me achieve that. I have never in my whole life had free time the way I've had these last two and a half months [working locums]. Even the days I work are not like the days I used to work." Check out some of Dr. Wecker's photos from her most recent assignment on
CompHealth's Instagram page
.