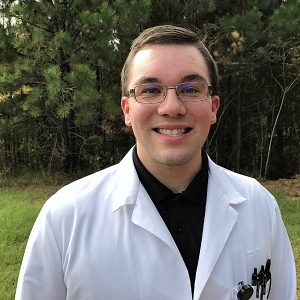 Finding a job you like is tough— finding a job you love can seem nearly impossible.  Just ask Chris Dobry.
Becoming a Pharmacist
Faced with illnesses early in his life, Chris spent a lot of time in the doctor's office and at the pharmacy. "The pharmacist seemed very relaxed and always a wealth of knowledge," Chris says. "It seemed like a job that was interesting." When he decided to choose a career, Chris realized that a job in 
pharmacy
 wasn't just fascinating, it also allowed for a better work/life balance than other medical professions.
Having a Partner to Help Navigate the Job Search Process
After graduation, Chris applied for jobs online, but struggled to find anything, let alone his ideal job at a hospital. A friend recommended contacting a CompHealth recruiter she was working with. From the first time he talked to Haylee, his CompHealth recruiter, Chris realized that she wasn't just knowledgeable about his profession, but also took the time to get to know him and what he wanted in a job. As an added bonus, she offered advice throughout the process, including how to improve his resume. "Haylee got to know me, my background, what I was looking for and what I was open to," Chris shares. "She looked at my resume and cover letter and made suggestions on how to make them better." Before long, Haylee found an ideal opportunity for Chris at a hospital in his area. "She was able to go through a mock interview with me to prepare for the real phone interview and did another mock interview for the in-person interview," he adds.
Finding His Dream Job
With Haylee's help, Chris found his dream job and recommends any pharmacist looking for a permanent job to work with CompHealth to find it. "I wish I knew to work with a staffing agency a lot sooner," Chris says. "They're more than just someone sitting at a desk looking through resumes. They really know what you are looking for and how to help you get what you are looking for. Plus, they are so friendly." You don't have to take on the job hunt alone. Each year, CompHealth's recruiters help hospital pharmacists like Chris find their just-right job.
View pharmacy jobs
or contact a CompHealth recruiter today at
800.453.3030
to get started on your job search.