Three years ago, Laura decided to work as a traveling 
physical therapist assistant
 with CompHealth and has loved it ever since. "I had a friend who traveled with CompHealth," Laura shares. "I was always so impressed with the way she talked about her recruiter, so when I began to consider traveling, CompHealth was at the top of my list. At the advice of my traveler friend, I did some research and spoke with several companies. I was very impressed with the CompHealth recruiter's honesty and how realistic she was in what to expect from traveling." Laura's travels have taken her (and Cooper, her furry Goldendoodle traveling companion) on numerous adventures over the years. Along the way, she's cultivated new friendships and explored new cities, and she looks forward to the many adventures awaiting her on her journey. "There are still so many places I haven't been!" she says.
Making Lifelong Friends
Laura's favorite assignments are those where she's been able to create lasting friendships with her co-workers and meet new patients in need of her care. "I worked at the South Carolina School for the Deaf and Blind — pediatrics is my all-time favorite. I was lucky enough to work with a couple of other CompHealth travelers while I was there. One was a very experienced
physical therapist
who I learned so much from and the other an
occupational therapist
named Nicole who I now count as one of my best friends! I think Nicole and I had brunch at every single restaurant in the area during our assignment." From her very first assignment, Laura has been impressed with the friendliness of the staff and patients she's worked with. One of her most memorable assignments to date was in Rockmart, Georgia. "I worked in an outpatient clinic and both the patients and staff were so friendly and welcoming. The patients were always bringing in baked goods. And the staff genuinely liked each other and looked out for one another. I cannot say enough good things about this assignment."
Exploring New Areas
When on assignment, Laura takes advantage of the opportunity to explore the city and surrounding areas. "I do a lot of day trips on the weekends," she shares. "You never know if or when you are going to be in that area again, so you have to take advantage of it while you are there." Some of the areas she's explored include:
Rockmart, Georgia
"This is a very tiny town, but close enough to Atlanta for quick trips. What made this assignment so great was the people."
See open PTA jobs in Georgia.
[caption id="attachment_7923" align="alignright" width="150"]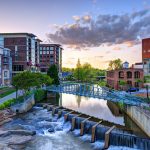 Greenville, South Carolina[/caption]
Greenville, South Carolina
"Greenville is a wonderful city and has a great downtown area with some amazing restaurants. Also, it was very dog friendly."
See open PTA jobs in South Carolina.
Fairfield, California
"Fairfield is close enough to San Francisco and wineries for day trips and close enough to Lake Tahoe for a weekend away — which I highly recommend!"
See open PTA jobs in California.
[caption id="attachment_7924" align="alignleft" width="150"]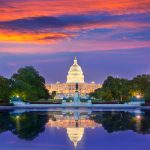 Washington, D.C.[/caption]
Winchester, Virginia
"This is a very cute town. It has a great little downtown area with several restaurants that are very good, and it's not too far from Richmond or Washington, D.C. Also, there are several places for skiing and snowboarding within a couple of hours."
See open PTA jobs in Virginia.
Laura advices other travelers not to waste a moment and to jump right in and explore the area. "Assignments are typically 13 weeks, which at the beginning sounds like a lot, but it usually goes by pretty fast. The better the assignment the faster it goes, so start trying to meet people and enjoying where you are as soon possible."